30 Jun

Philippine President compares ISIS extremism to Adolf Hitler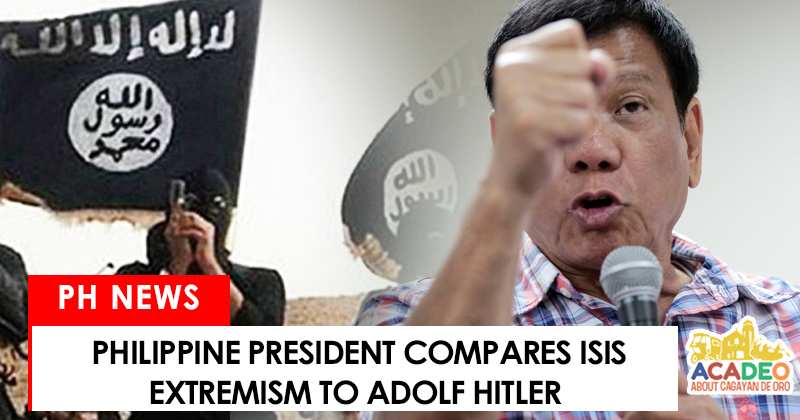 Philippine President Rodrigo Roa Duterte, in an interview at Clark, Pampanga last Wednesday, June 28,  compared the ISIS extremist group with the German Nazi leader Adolf Hitler during the World War 2 who was known to lead the killing of millions of people in Europe.
In an article on Manila Bulletin News Website, the President said that he cannot give assurances that upper portions of the country in Luzon will not be experiencing the throes of terrorism as Mindanao is experiencing recently with the Maute terrorist group.
He said that terrorism is a global menace and it can happen anytime and anywhere so there are still possibilities that it will also happen in areas in Luzon.
During the interview, he made reference to the mass killings of Jews during the World War 2 where  Hitler, as a "madman", was able to convince multitudes of individuals to join his military troop. "Ganoon itong ISIS (In the time of our fathers, Hitler was a madman and yet he was able to contaminate a lot of people with his ideas such as killing Jews. ISIS is like that)," he said.
He shared that he could not say when the crisis in Marawi City will end has high hopes that it will end very soon.