16 Aug

Philippine Olympian Eric Cray Advanced to 400m Hurdles Semi-Finals in Rio Olympics!

On Tuesday, August 16, Philippine-American Olympian Eric Cray advanced to the semi-finals of the athletics event, 400m hurdles, in the 2016 Rio Olympics in Brazil.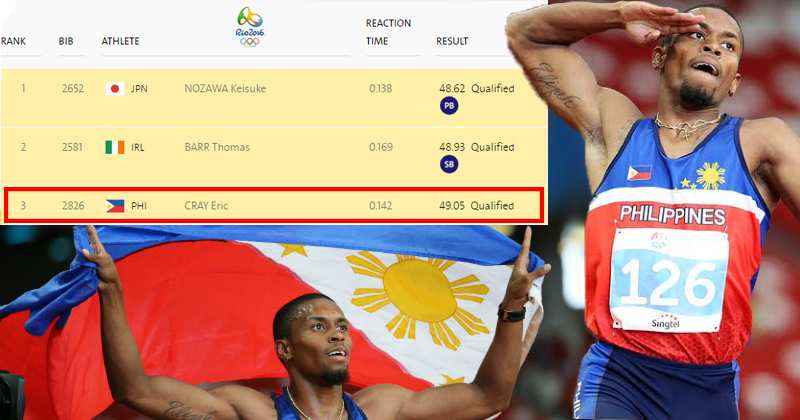 Cray's spot in the semi-finals came after he finished 3rd in "Heat 4" in the Round 1 of the 400m hurdles event with a time of 49.05 seconds. This is just 0.07 slower than his personal best of 48.98.
In the first round, 46 athletes have been separated into 6 "Heats" or groups. The top 3 runners of each group and the next 6 fastest will advance to the Semifinals that will start at 8:35am on Wednesday, August 17.
If Cray will make it to the finals, it will then be held on Thursday, August 18.
The 27-year-old Cray was born to a Filipina mother in Olongapo City and an American father but raised in Texas. He was also a two-time Southeast Asian Games gold medalist.
Of the 24 athletes who have successfully advanced to the semi-finals, Cray is ranked 14.
In the Semi-final round, the 24 athletes are grouped into 3 groups, having 8 athletes in each group. The first 2 runners in each group and the next 2 fastest will advance to the Finals.
Cray belonged to group 1 where 4 out of 7 other runners in that group has ran faster than him in the first round. The odds may not be in our favor, yet Cray can make a shocking surprise here as the Philippines will look forward on its second medal after Hidilyn Diaz snatched a silver a week ago.