22 Aug

Pimentel Urge to Make Enchanted River and Tinuy-an Falls as Protected Areas

Enchanted River and Tinuy-an Falls both tourist attractions from Surigao del Sur are being marked as "protected natural parks". This is to conserve them from human abuse and protect their physical and biological features.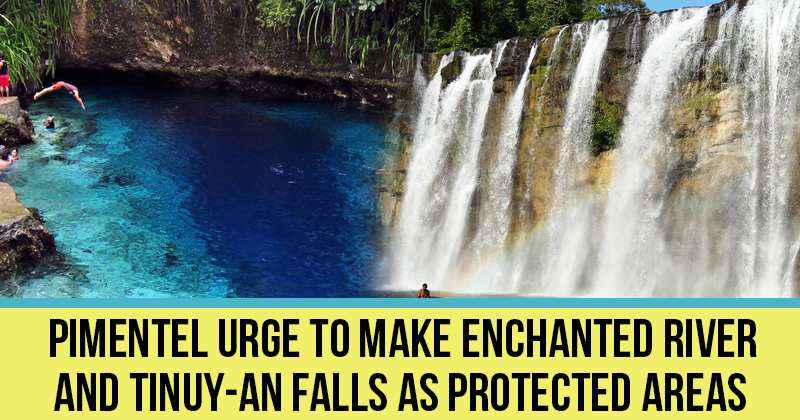 House Bills 1903 and 2116 were filed by Surigao del Sur's representative Johnny Pimentel where he proposed to include the two natural wonders of his province to the national registry of protected areas.
Pimentel, a member of the House Committee on Natural Resources said, "No effort must be spared to conserve the magical river and the majestic falls, both of which are now clearly in danger of degradation on account of unchecked human activities, spurred mainly by the growing number of local and foreign visitors." He added, "We want the proposed Enchanted River and Tinuy-an Falls natural parks to become the focus of highly aggressive conservation efforts so that future generations of Filipinos may delight in their marvels."
One of the most popular tourist attraction sites in the Philippines is the Enchanted River located at Hinatuan, Surigao Del Sur. The remarkable clear blue river is 270-meter long that flows into the Philippine Sea and the Pacific Ocean through Hinatuan Bay.
Meanwhile, Tinuy-an Falls also known as the country's "Little Niagara Falls" has 55 meters high and 95 meters wide considered as the broadest falls in the Philippines. It is located in Barangay Borboanan, Bislig, Surigao del Sur and has a highly diverse ecosystem that includes 235 varieties of plant and animal life but some of which are considered as endangered.
Portions of land and water may be reserved as "protected areas," by law or by presidential proclamation, to protect and improve their exceptional qualities according to the National Integrated Protected Areas System (NIPAS) Act of 1992.
Biodiversity Management Bureau, formerly Protected Areas and Wildlife Bureau manages all protected areas, mostly with the help of local governments, or the state-run corporation that owns or controls the area.
Philippines largest protected area is the Palawan Game Refuge which covers 761,416 hectares while the smallest is the Bird Sanctuary located in Hinulugan Taktak, Antipolo City, Rizal with 3.2 hectares.
So far, there are 240 protected areas that cover 35,700 square kilometers around 12% of the country's total land area.