21 Jun

Pinoy Lawyer Killed In Shooting Incident @ Philadelphia, US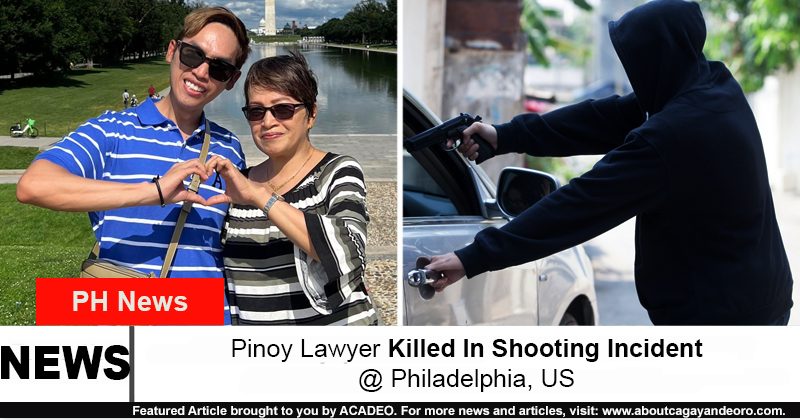 Mga higala! John Albert Laylo, a Filipino lawyer, was killed in a shooting incident in Philadelphia (United States)!
According to reports, Laylo was shot in the head while riding an Uber to the airport last June 19, 2022. He then died just hours after being brought to the Penn Presbyterian Medical Center (June 20).
No suspect has been arrested yet but the authorities are now conducting an investigation to identify the culprit and determine if Laylo and his mother, or the Uber driver, were intentionally targeted.
BTW, below is his mother's last Facebook post:
"My last happy moments with my son

Jal

who passed away this morning at 10:33am EST time. I thank God for the 35 years of his life. I'm beyond grateful for having a good, smart, generous, loving, caring son these are the adjectives I can think of now. I'm lost of words!

Before he left he made sure we had fun! But never did I imagine or dream that its almost the end of our vacation will be like this! We traveled together and we are supposed to go home together! I will bring him home soon in a box!

My son has a lot of dreams a lot of plans, hopes and everything! He's gone now.

I can't explain the pain the heaviness I have in my heart. It took me hours to post this because still I can't believe this happened!
Anak thank you so much for everything! You know we love you so much and I did what I can to protect you in that incident but I know you understand why I need to protect my self as well. I have a purpose! I can't feel the physical pain due to shrapnel. What I feel is the pain that you left me, us your family! You really love to travel huh that you chose to die here in US!

Jan as we call him, mahal na mahal ka namin! No more pain no more sufferings I know Papa Jesus is embracing you already and your surrounded with angels now."