16 Mar

You Got That Crust: Places to Get Delicious-Tasting Pizza in CDO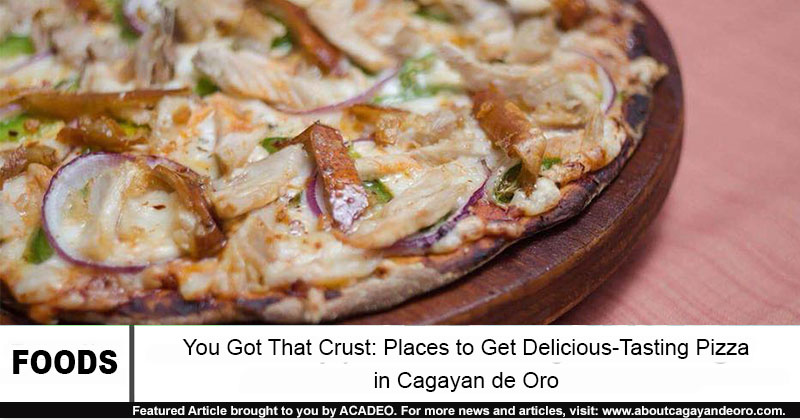 Are you on the hunt for delicious-tasting pizzas here in Cagayan de Oro? Just an advice. Keep scrolling. *wink
As Kagay-anons, we are lucky as local pizza businesses here in the city provide us with innovative and unique pizza creations. They only make use of the best ingredients just to satisfy our love for pizza. Let us introduce some of them for you.
Big Flat Bread
Location: Corner Ebarle Street, Corrales Avenue, CDO
Who does not know Big Flat Bread, or simply BFB? Treat yourself with two or more of their pizza today!
Choose from their awesome flavors such as Knickerbocker, Tropical Adventure, Godfather, and more.
Calda Pizza
Location: Lapasan Highway and Lorraine's Portico, Pueblo de Oro
How about some thin crust pizza for this day? Get it from Calda Pizza!
They offer a wide range of pizza flavors available in 5 sizes, regular (11″), Family (16″), XL (20″), Super (30″) and Xtra Super (36″).
Their bestsellers include Calde Speciale, Hawaiian, Pepperoni, and Quattro Formaggi.
Alberto's Pizza
Location: Pabayo Hayes St, Divisoria and Vamenta Boulevard, Carmen
Want to get a quick fix of delicious pizza? Alberto's Pizza got it for you.
Their affordable classic pizza flavors do not disappoint. But if you want to try unique flavors, check their Cookies n' Cheese, Beef & mushroom, and Oreo Piña.
Rafael's Pizza
Location: National Highway, Bulua (across Mang Inasal and in between mini market and fruit store)
This day calls for some pizza. Grab some from Rafael's Pizza!
Enjoy their classic flavors such as Chicken Cheese, Vegetarian, Beef & Mushroom, overload, and more.
Catee's Pizza
Location: National Highway, Bulua (inside Total Gas Station, near Divine Shepherd)
Original crust, anyone?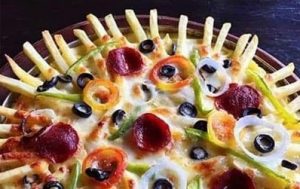 Catee's Pizza takes pride in providing amazing pizzas with an original pizza crust recipe that you'll definitely love.
Might as well try their best sellers such as Catee's Supreme, Mexican, Pepperoni, and Tropical Americana.
We didn't mean to make you hungry at this very moment but we guarantee that you are in for a treat. If you are a true Kagay-anon, let us know your experience!
To learn more about these businesses, go to Cagayan de Oro Directory. Want to be added? Contact us!