25 Mar

Boodle Foodie: Places Where You Can Enjoy Boodle Fight in CDO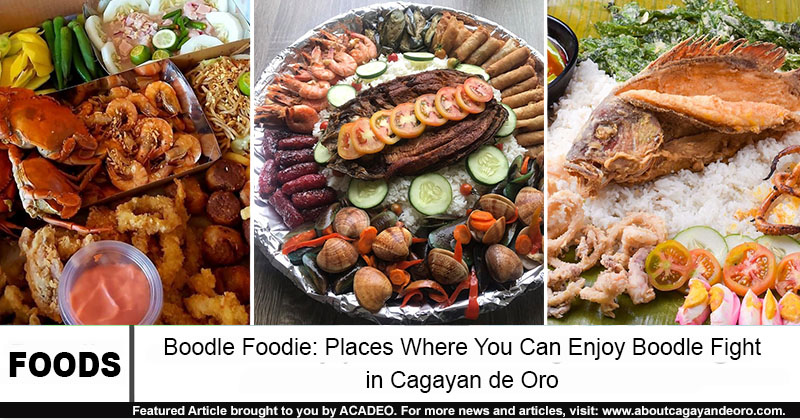 As pinoys, we are known for eating food with our bare hands. It is our way of showing how much we love to eat.
Ever heard of boodle fights? Usually, the food is prepared on large-sized banana leaves on top of a table. People are then gathered around and grab food when they can. Fun right?
So, if you are looking for boodle places here in Cagayan de Oro, just keep scrolling!
Boy Zugba
Where are the barkadas at? Make the bonding fun through boodle fights at Boy Zugba!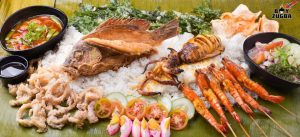 They have 3 Boodle Attack! packages you can choose from starting with:
Karne-vorous (cheesy chorizo, pork bbq, pork liempo, and crispy kangkong)

I Sea Food (tuna belly, clamares, nucos, crispy kangkong, kinilaw with lato, and camaron abusado)

Meat Me @ Da Sea (nucos, calamares, kinilaw with lato, pork bbq, chicken inasal, pork liempo, cheesy chorizo, crispy kangkong, itlog maalat, and kropek)
Sgt. Stan Boodle Camp
Location: Zone 9, Patag, Cadre Road (going Camp Evangelista beside San Roque Church), Cagayan de Oro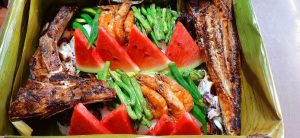 Boodle fights with the family? Or with your group of friends during sleepover? Sgt. Stan Boodle Camp to the rescue!
Their boodle fight packages are available for take-out and delivery so that you can enjoy good food while staying at home safe. Check them out!
HSG Cafe
Usually caters to big parties and events, HSG Cafe also offers boodle packages for you and your friends to enjoy!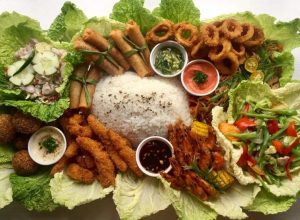 Order their Big Family Boodle Set and have a great time munching on their fried lumpia, kinilaw, cheesy bola-bola, calamares, buttered shrimp, and more.
BoZ
For Kagay-anons who enjoy seafood platters, BoZ got you!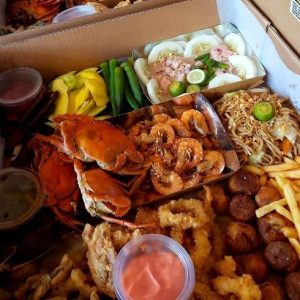 They have party packages that may contain garlic buttered shrimps, chili crabs, calamares, tuna kinilaw, tuna panga, seafood pancit canton, and more.
PLUS, you can choose to include unripe mangoes, french fries, or fried eggplant slices.
Pancit Malabon CDO
Are you a group of 5 hungry Kagay-anons? Get stuffed with Pancit Malabon CDO's Boodle Bilao!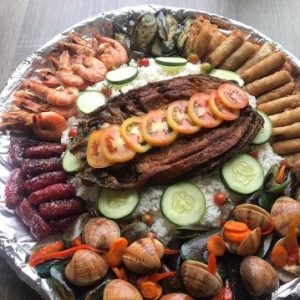 It consists of rice, boneless bangus, shells, longganisa, shrimps, lumpia, and other side dishes. Satisfied!
Now my stomach is grumbling. Guess it's time for a boodle fight! Let us know your boodle experience in the comments below!
To learn more about these businesses, go to Cagayan de Oro Directory. Want to be added? Contact us!