05 Aug

PNP Chief Already Assigned Tough Police Officers in Areas Where Leaders are Drug Lords or Drug Lord Protectors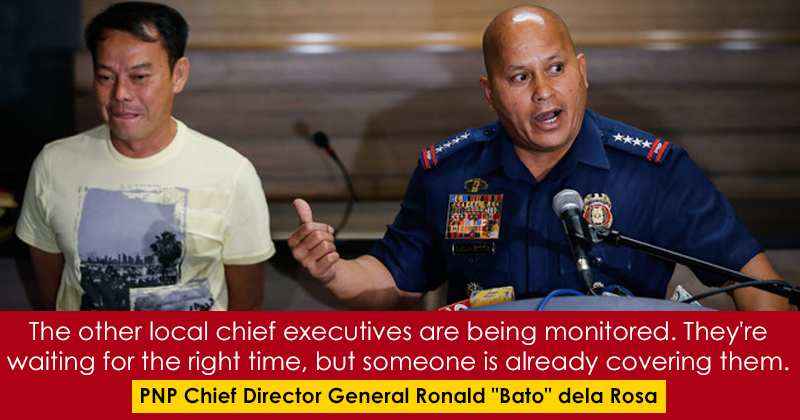 On Thursday, August 4, Philippine National Police (PNP) Chief Director General Ronald "Bato" dela Rosa said that there were already tough police officers assigned in the areas where executive officials are either drug lords or drug lord protectors themselves.
On an interview that day, he was asked about what strategy he uses to capture these elite people. Dela Rosa said, "It's the same strategy against Albuera Mayor Ronaldo Espinosa. We will assign a police chief who is tough, the kind who'll fight back so they surrender."
Dela Rosa said that the names that are included are included in the list are with the President.
Espinosa, the mayor or Albuera town in Leyte, is one of them. He recently surrendered amid allegations that he protects his son, supposed drug lord Kerwin Espinosa.
As for the other names in the list, Dela Rosa has already made a statement about them. He said, "The other local chief executives are being monitored. They're waiting for the right time, but someone is already covering them."
At the time of this writing, there are already 400 reported deaths of drug personalities in military operations in the country with PNP's intensified campaign against illegal drugs. This does not include some that are not from the military raids and unreported deaths as well.
Dela Rosa also protected the stance of the Police that the deaths of the drug personalities are not coming off from extrajudicial killings which allegedly tagged into them.
He said that if the Police officers won't fight back to the retaliation of the suspected drug personalities on their operations, then it would cost their lives otherwise.