03 May

PNP Now Looking For New IT Officers, Salary: Up To P49,000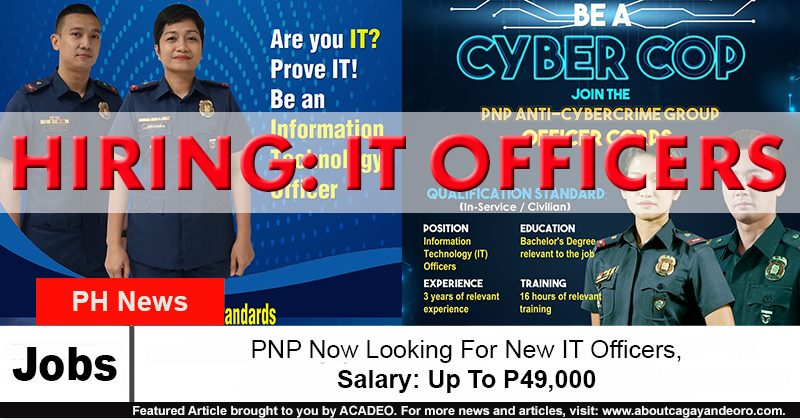 Mga higala! The Philippine National Police's (PNP) Anti-Cybercrime Group and Information Technology Management Service (ITMS) are now looking for new Information Technology (IT) officers!
Based on their Facebook posts, the salary will range from P29,688 to P49,528 (plus benefits and more).
Interested? Below are the qualifications and requirements:
QUALIFICATIONS
Relevant degrees: BS Information Technology, BS Computer Science, BS Information System, BS Computer Engineer, and others
Experience: 3 years of relevant experience
Eligibility: Civil Service Elegibility (Professional: 2nd Level) or EDP Specialist
REQUIREMENTS
1. DOCUMENTARY REQUIREMENTS FOR IN-SERVICE APPLICANTS:
(Not more than 46 years old at the time of appointment)
A. Lateral Entry Application Form
B. Civil Service PDS (Form No. 212, Revised 2017)
C. Updated Unit/RMD PAIS Generated PDS
D. Updated Service Record
E. Latest Promotion Order
F. Authenticated Report of Rating of Eligibility
(BAR/RA No. 1080, CSC Professional, EDP Specialist)
G. Appropriate Eligibility for Ra 1080 Holder (Valid and Unexpired)
H. Diploma/Transcript of Record (Authenticated copy)
I. Birth Certificate (PSA Copy with Receipt)
J. Highest Mandatory Training (Training Certificate)
K. Order of Merit and Declaration of Graduates
L. Specialized Schooling/Training
(Training Certificate, Order of Merit and Declaration of Graduates)
M. Latest two (2) consecutive period of PFT, IPER, ITR, and SALN)
N. Affidavit of Undertaking of Non-Pending Case
2. DOCUMENTARY REQUIREMENTS FOR CIVILIAN APPLICANTS:
(Not be less than 21 or more than 30 years of age)
A. Lateral Entry Application Form
B. Civil Service PDS (Form No. 212, Revised 2017)
C. Birth Certificate (PSA Copy with Receipt)
D. Certificate of Employment
E. Photocopy of two (2) Government issued IDs
F. Authenticated Report of Rating of Eligibility
(BAR/RA No. 1080, CSC Professional, EDP Specialist)
G. Appropriate Eligibility for Ra 1080 Holder (Valid and Unexpired)
H. Diploma/Transcript of Records (Authenticated Copy)
I. Related Training Required by the Technical Service/Unit Concerned
J. Certificate of Non-Pending Case (if presently employed)
3. DOCUMENTARY REQUIREMENTS FOR IN-SERVICE APPLICANTS:
(Not more than 46 years old at the time of appointment)
A. Lateral Entry Application Form
B. Civil Service PDS (Form No. 212, Revised 2017)
C. Updated Unit/RMD PAIS Generated PDS
D. Updated Service Record
E. Latest Promotion Order
F. Authenticated Report of Rating of Eligibility
(BAR/RA No. 1080, CSC Professional, EDP Specialist)
G. Appropriate Eligibility for Ra 1080 Holder (Valid and Unexpired)
H. Diploma/Transcript of Record (Authenticated copy)
I. Birth Certificate (PSA Copy with Receipt)
J. Highest Mandatory Training (Training Certificate)
K. Order of Merit and Declaration of Graduates
L. Specialized Schooling/Training
(Training Certificate, Order of Merit and Declaration of Graduates)
M. Latest two (2) consecutive period of PFT, IPER, ITR, and SALN)
N. Affidavit of Undertaking of Non-Pending Case
4. DOCUMENTARY REQUIREMENTS FOR CIVILIAN APPLICANTS:
(Must not be less than 21 or more than 30 years of age/height must not be less than 1.57 meters for male and 1.52 meters for female)
A. Lateral Entry Application Form
B. Civil Service PDS (Form No. 212, Revised 2017)
C. Birth Certificate (PSA Copy with Receipt)
D. Certificate of Employment
E. Photocopy of two (2) Government issued IDs
F. Authenticated Report of Rating of Eligibility
(BAR/RA No. 1080, CSC Professional, EDP Specialist)
G. Appropriate Eligibility for Ra 1080 Holder (Valid and Unexpired)
H. Diploma/Transcript of Records (Authenticated Copy)
I. Related Training Required by the Technical Service/Unit Concerned
J. Certificate of Non-Pending Case (if presently employed)
For more details: