19 Dec

PNP Releases List Of Prohibited Firecrackers: Violators To Receive Fine Of P20,000+ & More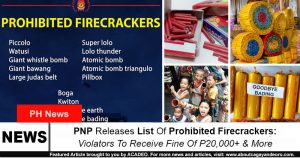 Mga higala! On their official Facebook page, the Philippine National Police (PNP) has recently posted the full list of prohibited firecrackers in the country.
Check it out below:
Piccolo
Watusi
Giant Whistle Bomb
Giant Bawang
Large Judas Belt
Super Lolo
Lolo Thunder
Atomic Bomb
Atomic Bomb Triangulo
Pillbox
Boga
Kwiton
Goodbye Earth
Goodbye Bading
Hello Columbia
Goodbye Philippines
Individuals caught manufacturing, selling, distributing or using these prohibited firecrackers may be fined between P20,000 and P30,000 and/or face imprisonment of up to 1 year.
With this, the PNP aims to maintain the downward trend of fireworks-related incidents during the holiday season.
For more details: