17 Aug

Pokemon Go in Cagayan de Oro: More Kagay-anons Frequently Visit CDO Places Unlike Before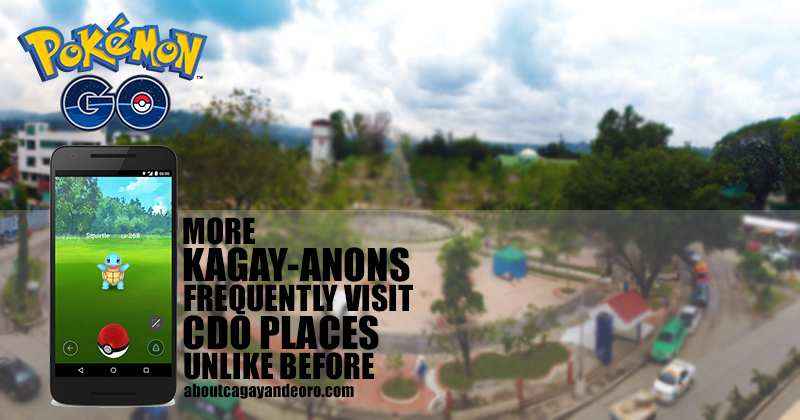 Last August 6, the much anticipated popular game Pokemon Go was officially launched in the Philippines, along with other countries such as Brunei, Cambodia, Federal States of Micronesia, Fiji, Indonesia, Laos, Malaysia, Papua New Guinea, Palau, Singapore, Solomon, Taiwan, Thailand and Vietnam.
Android and Apple users can now download the app for FREE on Google Playstore and Apple Appstore, respectively.
What's about Pokemon Go?
Developed by Niantic, Pokemon Go is a free-to-play, location-based augmented reality game that enables players to locate, capture, battle, and train virtual creatures called Pokemon through mobile device's GPS capability. Reported to have been downloaded by more than 100 million people worldwide, the said game became a global phenomenon universalizing location-based and augmented reality gaming, and at the same time, encouraging physical activity and helping local business grow.
On the other hand, Pokemon Go is also criticized for happening to be a public nuisance and contributing to accidents at some locations. Some governments have even expressed their concerns over the game's security.
Still, Pokemon Go is currently being enjoyed by millions of Pokemon fans worldwide, including fans in the Philippines.
How to play Pokemon Go?
Pokemon Go is just easy to play. But it's not only about catching pokemon. There are things you should know to enjoy the game the most.
After installing the Pokemon Go app, opening it will prompt you to sign in with a Google account, or if you have an existing account with Pokemon site's own "training club". You will then be able to create your own avatar and customize its hair, skin and eye color, style, and outfit. Next, your avatar will be displayed on a map showing your current geographical location, with grid of streets, rivers and parks. You will be able to choose one of the three starter pokemon namely Charmander, Squirtle and Bulbasaur. As you move within your real world surroundings, your avatar will also move within the game's map. You can also view all the directions by spinning your character around. However, with the streets having no names displayed, it would be tough to determine which way to walk to until you actually start moving. Might as well refer to the compass icon at the upper right corner of the screen.
Notice the floating light blue blocks you see somewhere in your screen? They are distinguished as PokeStops in the game which can be popular landmarks in your location such as entrances or statues of parks, or an artwork of a building. You can tap these which will then zoom in to display the image of the specific PokeStop. It will also say whether you're far from it, or near at it. When far, you have to go near to it until the block transforms into a disc. If near, you can slide the disc from right to left or left to right dropping you Pokeballs which you can throw at Pokemon to collect, along with other items such as Potion (to heal your injured Pokemon after a battle at a PokeGym), Egg (you can incubate it using an Egg Incubator which will then hatch into a random Pokemon), Raspberry (feed this to a wild Pokemon to increase the chance of catching it), Incense (attract wild pokemon for 30 minutes), Lure Module (attract wild pokemon for 30 minutes which can be shared to everybody within a PokeStop), etc.
See the large towers with Pokemon on top that keep on appearing and turning around? Those are the PokeGyms. But not all can enter the gym yet, until a player reaches level 5 where he/she can choose and join one of the three color-coded teams Team Valor (red), Team Mystic (blue) and Team Instinct (yellow) which are the likened to be factions within the world of Pokemon Go. If players enter a PokeGym that is under a different team, they can challenge the leader to lower the gym's "prestige". And once the gym's prestige is lowered to zero, the player can take control of the gym and will be able to deposit one Pokemon to defend it. A team can also upgrade the prestige of a gym under their control by battling the gym leader and each time a gym's level is raised, another player from the same team can deposit one of his/her Pokemon.
If you have played the other installments in the Pokemon series, you must have observed that in order to capture a pokemon in Pokemon Go, you don't have to battle with it but to throw a PokeBall at it through flicking the PokeBall icon displayed in the screen from the bottom up toward the Pokemon. If successfully caught, you will own the Pokemon and will be added on your Pokedex, a comprehensive Pokemon encyclopedia. In-game currencies such as candies (only depend on what evolutionary chain a Pokemon belongs to) and stardust will be collected after capturing a Pokemon, both of which are required to be able to raise a Pokemon's Combat Power (CP), and candies only to evolve a Pokemon. You can also gain candies through transferring the duplicate Pokemon back to the Pokemon professor, as well as creating a room for more Pokemon. The ultimate goal of the game? To complete the entries in the Pokedex by capturing and evolving to collect the original 151 Pokemon. However, initially, there are 128 actual Pokemon listed in your profile's Pokedex.
Know that as you level up, you will be able to catch Pokemon with higher CP. This means, not all Pokemon with the same species will have the same CP.
Pokemon Go Mania in Cagayan de Oro
The Pokemon Go mania already loomed in other countries since its launching for beta test, and the Philippines is yet to catch up. Filipinos weren't able to hide their excitement in social media sites with the launching of Pokemon Go. Memes and Hugots about Pokemon Go even swarmed Facebook and Twitter.
Specifically here in Cagayan de Oro, you can really notice how many Kagay-anons are into Pokemon Go.
Parks such as Gaston Park, Golden Friendship Park and Vicente de Lara Park sure are the most popular parks in Cagayan de Oro, and are mostly visited during late afternoons and weekends. But with Pokemon Go making the parks as PokeStops, they are more frequently visited among Pokemon Go players even the earliest of mornings. Churches in the city were even turned into PokeGyms. Similar with malls, schools, business establishments and other physical landmarks that can be found within Cagayan de Oro.
Check out this full list of PokeStops and PokeGyms distributed within the city. (Source: gamingph.com)
112 PokeStops:
Sea Gentiles for Christ Ministries Church

Justiniano R. Borja Monument

Jose Rizal Monument

Centennial of Freemasonry in Mindanao

El Pueblo A Sus Heroes

Vintage Car Mural at Grand Central

The Best of Butcher's Mural of Life

Peacock Glass Art – Dynasty Hotel

Our Lady of Lourdes

Lourdes Statue

Pineapple Marker

Cagayan De Oro City Hall

Gaston Park Stage

St Agustine Church Fountain

Labanan Sa Cagayan De Misamis Tablet

City Museum of Cagayan De Oro

TV Patrol 25 Memorial Marker for the Victims of Typhoon Sendong

Ang Bola Ni Fountain

Rotary Club Memorial Marker

Cagayan De Oro City Public Library

Josefa Llanes Escoda Memorial Bust)

Santa Cruz Chapel

Kabajong Puti'g Tijan Statue

CDO City Street Art 2

CDO City Street Art 1

Our Lady of Fatima Chapel

Press Freedom Monument

Capitol Ground Water Fountain

Jesus Statue

Cagayan De Oro Park Fountain

United Church of Christ

Seda Spindles

Centrio Tree of Life

Havaianas Hot Air Balloons

Jesus Nazareno Parish CDO

Don Stephen Gaisano Portrait

Le Globe de Lifestyle District

Johnnie Walker Art

Laureana San Pedro Rosales

Seventh-Day Adventist Church

San Nicolas De Tolentino Parish

Church of Jesus Christ

General McArthur's Hat Marker

Agora Terminal

Ramen Tei Fountain

Kagay-anon Brick Fountain

Pillar Mural

Great Ceiling Wall Art of Limketkai Centre

Pizza Delight Mural

MBS Abstract Art 1

MBS Abstract 2

Hi C Wall Art

Lifestyle District Globe

Touch and Heal Ball Fountain

Jade Carp Fountain

Creative Shell Wall Art

Northern Mindanao Practical Shooting Association – Firing Range

Maria Reyna Mary & Cherubim Statue

San Antonio De Padua Parish Church

Sacred Heart of Jesus Statue

First Assembly of God Church

Cagayan Gospel Church

Oro Baptist Church

Night Cafe New Bola Ni Fountain

Hosanna Unity Church

Hollywood 3D Wall Art

Rodelsa Circle

Father and Son Statue

Loyola House

St. Ignatius Layola Statue

Virgin of the Poor Statue

St. Francis Xavier Statue

Mother Mary Statue

Lake Mural

Latter Day Saints Church

Faith Baptist Church

Red Lady Statue of G-Galyx

Bell Church Cagayan De Oro City

Jireh Reformed Congregational Church

Lestonnac Youth Center

Guru Nanak Indian Temple

Immaculate Conception Parish

Sta. Cruz Church

Xavier Estates Church

Ridgeview Chalets Welcome Statues

Green Fountain

Concentrix

Merry Go Round

The Courtyards Fountain

St. Francis Xavier Parish Church

Pryce Plaque

National Baptist Church

Abstract Fish Pond

Pueblo De Oro Fountain

Santuario Eucaristico Parish

Our Lady of Blessed Sacrament Groto

La Castilla Museum

Liceo De Cagayan University

Lasang Ug Santuario Ni San Antonio

N Hotel Fountain Pond

Elephant Statue

Diamond Evangelical Church

Tank 2 Model

Mary Grotto and Bell Tower

Greenhills Memorial Park Chapel 1

Greenhills Memorial Park Chapel 2

Transfiguration of Jesus Christ

Divine Shepherd Statue

Iglesia Filipina Independence Pro Cathedral of the Virgin Mary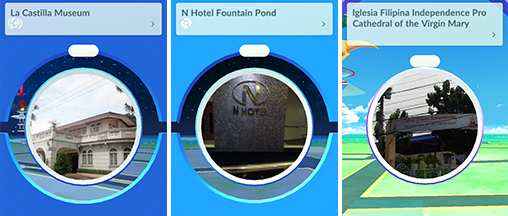 CDO Marker

JCI Kagayan Gold Statue

Bulua Bus Terminal Entrance
28 PokeGyms:
Ramon Magsaysay Monument

St. Augustine Cathedral – POV

Tablet Memorial of Cathedral of St. Agustine, Cagayan De Oro City

Maguindanao Masonic Temple

Provincial Capital of Misamis

Silver Ring Modern Art

Museum of Three Cultures

Silver Ring Modern Art

Museum of Three Cultures

MUST Entrance Sign

Mallberry Suites Fountain

Cucina De Oro Water Falls

Oro Islamic Center

Religious of the Assumption House

Christ Lutheran Church

Buddhist Missionary Institute

Xavier Estates Tower

Pueblo De Oro Park

Regatta Beacon Fountain

Wood and Rock Sculpture

GSIS Post Office

San Isidro Labrador Parish

Mini Tank Model

San Roque Chapel

Green Hills Virgin Mary Grotto

St. Peregrine Church

Immaculate Conception Parish

Oro Builders Eagle Club
Read a familiar place near your location in the list of PokeStops and PokeGyms above? Exciting right? But before you head to these spots near you, might as well learn the following tips in playing Pokemon Go.
Tips on playing Pokemon Go
In order to play Pokemon Go effectively and probably, to save time, you need to know these following tips.
      1. Do not just travel past PokeStops and Gyms, collect pokeballs and other items.
You would not like the feeling when there's a lot of Pokemon around yet you have no pokeballs to catch them all! So, it's best to always visit PokeStops and stock as many pokeballs and other items such as potions, revives, eggs, etc, as possible. Though it may take a couple of minutes for the PokeSTops to become available again, but it's worth the wait. Regarding the gyms, winning would really mean a lot to your team. Plus, you can get a lot of XP points. However, you can't win if the gym defender has a pokemon with higher CPs, unless yours are more powerful.
     2. Hatch gathered Pokemon eggs via walking in kilometers.
Swiping the discs of PokeStops will give you items such as Pokemon eggs. These said eggs contain any random Pokemon depending on the number of kilometers indicated (2km, 5km or 10km).
But for you to be able to hatch it, you gotta have to incubate it using the egg incubator. The orange one is the infinity incubator where you can use it infinitely, and the other one which is colored blue can only be used in limited times. Now, after putting the eggs in incubators, you have to walk (or ride a vehicle that runs slowly that could count as walking). Note that you must keep the app open while walking for if it is closed, you're walking will not be counted.
     3. Make use of Incense.
Do you own a lot of Pokemon Incense? It is an item which you can only get at PokeStops along with the other items. Using it can invite Pokemon to appear on your screen. Standing still can invite pokemon every 300 seconds, however, if you are moving, pokemon will appear every 60 seconds. So, stand still or keep moving? Note that it would be wise to use it on PokeStops and not on locations that are too far from where you can get pokeballs and other items.
     4. Save battery by turning off augmented reality.
With the camera app that can really weigh heavily, turning it off means turning off the augmented reality which can save your battery from draining. Plus, it can help you to aim better in capturing pokemon.
     5. Chance of capturing the Pokemon is higher when the target ring is at its smallest diameter.
This must be the one of the basic things to know in Pokemon Go but is very important. I mean, it's frustrating when you throw Pokeball to a caterpie or a weedle only to find out that they will just keep on escaping. Similar with stronger pokemon. Timing is really important.
You can determine how easy or difficult it will be to capture a pokemon by the color of the shrinking ring. Green ring indicates that the pokemon will be an easy catch, and probably will have a lower CP. Yellow may indicate that the pokemon is an evolved form or with a higher CP and it will require more skill and persistence. And when the ring is colored red, it may indicate that the pokemon is the most powerful, the most rare and surely the most difficult to catch. You'll be needing more patience and more Greatballs! You can also notice other shades of green, of yellow and of red. Yellowish green may indicate a moderately easy to catch pokemon, and orange may indicate a fairly difficult to catch pokemon.
     6. Get a curveball bonus.
You must have noticed some players who make round gestures while capturing a pokemon. They are trying to get the curveball bonus. You can get this bonus when you successfully catch a pokemon through spinning the pokeball before throwing it. All you have to do is drag the pokeball, spin it through swiping the screen in a circular motion before releasing it.
     7. Make friends. They can point you to a pokemon.
One of the positive causes of Pokemon Go is socialization. In order to get info about where to locate a pokemon, you can ask other Pokemon Go players. Be friendly and they'll point you to where they have sighted a pokemon.
     8. Don't just ignore Pidgey, Spearow and Rattata, they keep on appearing for a purpose.
Don't think keeping on capturing Pidgey, Spearow and Rattata is a waste. You need them to Power Up quickly and get stardust and XP points easily.
If you think we have missed other tips, please don't refrain to comment it down below. So there you have it. This is just a simple walkthrough in playing Pokemon Go, especially here in Cagayan de Oro. So now, what team are you in? We heard some news regarding the new features that are going to be rolled out for the next days or months. Very exciting right? So, if you wanna be the very best like no one ever was. Then you got to catch them all! BUT still, take caution while playing it. Go CDO Pokemon Trainers!