14 Nov

NorMin Police To Establish 'Cadre Program: Life after Tokhang', Hundreds have Already Signed Up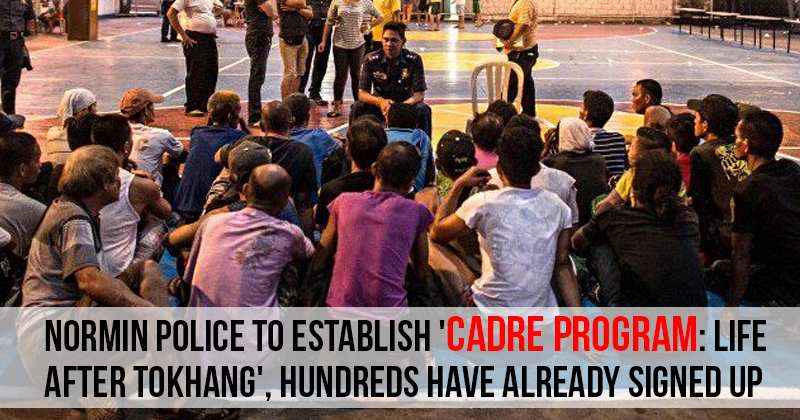 Following the successful war against illegal drugs implemented nationwide by President Rodrigo Duterte, many drug dependents yielded and submitted themselves to the police.
These suspects intend to change their way of living and start a new life. Yet, there are only few rehabilitation centers in the country that it can't fully accommodate the increasing number of drug dependents. This urged the police in Northern Mindanao to establish a camp-based drug rehabilitation program.
According to the report from Sun.Star, a project entitled as "Cadre Program: Life after Tokhang," is set to launch by the Philippine National Police (PNP) – Northern Mindanao. The project is set to inaugurate on November 16, Wednesday at the police regional headquarters in Camp Vicente Alagar, Lapasan, Cagayan de Oro City.
Around 78,000 drug dependents in the region have surrendered to PNP's Oplan Tokhang, 12 percent of the total number of drug suspects nationwide, according to Chief Superintendent Noel Constantino, Northern Mindanao regional director.
The Camp-based Drug Rehabilitation Program or Cadre is a rehabilitation program which is to be done for 90 days. It will be facilitated by trained professionals and will accommodate the identified drug dependents who surrendered during the PNP's Oplan Tokhang.
Participants will undergo psychotherapy, lectures, spirituality and other subject concerning on the recovery.
Constantino said the program was intended for participants to be free to go out of camp.
During the launching of the Masa Masid or Mamamayang Ayaw sa Anomalya, Mamamayang Ayaw sa Ilegal na Droga program of the Department of Interior and Local Government (DILG) last November 8, Constantino said that they are willing to help the drug dependents and that they won't leave them just like that.
The free rehabilitation project will commence sooner or later in the provincial and city police offices across the region, Constantino said.
Constantino also stressed the point of this project to the new anti-illegal drugs campaign scheme dubbed as Project Double Barrel Alpha.
He said that they have to give their all out support for this project to succeed.
He added that it is not just their duty as mandated by the PNP but also their moral responsibility to give the support they needed to live a drug-free and productive life.
The action was presented by CDO-Pathway to Recovery Foundation, Inc.,  concerned barangays and the Police Regional Office-Northern Mindanao as an active associate, according to Northern Mindanao police spokesperson Superintendent Surki Sereñas.
An orientation concerning the project called as Recovery and Wellness Program for Tokhang Responders was held on November 12, Saturday at the police regional headquarters, Sereñas said.
Participants who attended the orientation were informed of the disastrous effects of using illegal drugs, and the value of a rehabilitation and wellness program.
He added that after the orientation, those drug dependents who choose to participate in the program will have to express their willingness to be counted in the first batch for the Cadre program.