16 Jun

Polymedic Successfully Conducts Heart Procedure On 14-Day-Old Baby Boy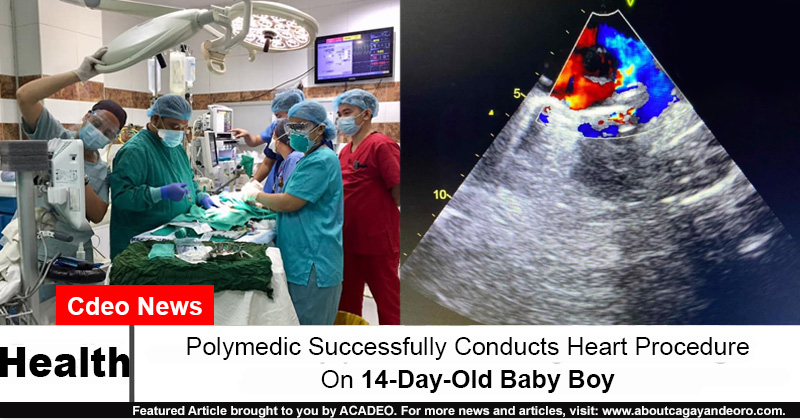 Mga higala! The Polymedic Medical Plaza-Center for Cardiovascular Medicine of Cagayan de Oro has successfully conducted a patent ductus arteriosus (PDA) transection on a 14-day-old baby boy last June 4, 2021!
The baby needed the said PDA transection because his ductus arteriosus, a normal fetal artery in the heart which was supposed to close after birth, failed to do so. This causes breathing problems and other complications.
In case you don't know:
"After birth, the ductus arteriosus normally closes within two or three days. In premature infants, the opening often takes longer to close. If the connection remains open, it's referred to as a patent ductus arteriosus. The abnormal opening causes too much blood to flow to the baby's lungs and heart." -www.mayoclinic.org
Upon getting the permission of the parents, the cardiovascular team of Polymedic conducted the surgery. It was swiftly done with no complications.
(Thanks to the expertise of doctors Jocelyn Go, Maria Rowena Sanchez, Gerrylouie Abadies, Ali Macatanong, Harold Joseph Lumang, Raisalam Macataman, Oddyss Gladney Obuyes, and Polymedic's other health personnel.)
After 12 hours, the baby boy tolerated extubation and was breathing comfortably as opposed to his status prior to the procedure.
He then stayed for a few days at the hospital and was finally able to go home and meet his siblings.
For more details:
Related articles:
LOOK: Polymedic Accomplishes First-Ever "Balloon Mitral Valvotomy" Procedure In Northern Mindanao
LOOK: Polymedic Accomplishes First-Ever "Balloon Mitral Valvotomy" Procedure In Northern Mindanao
LOOK: Polymedic Accomplishes First-Ever "Balloon Mitral Valvotomy" Procedure In Northern Mindanao