15 Aug

Possible Infiltration of ISIS in the Philippines Caused an Alarm

President Rodrigo Duterte has ordered the Armed Forces of the Philippines (AFP) to validate the presence of the Islamic State (ISIS) in Mindanao. And now, AFP is on foot to verify the reports on the existence of ISIS in the country.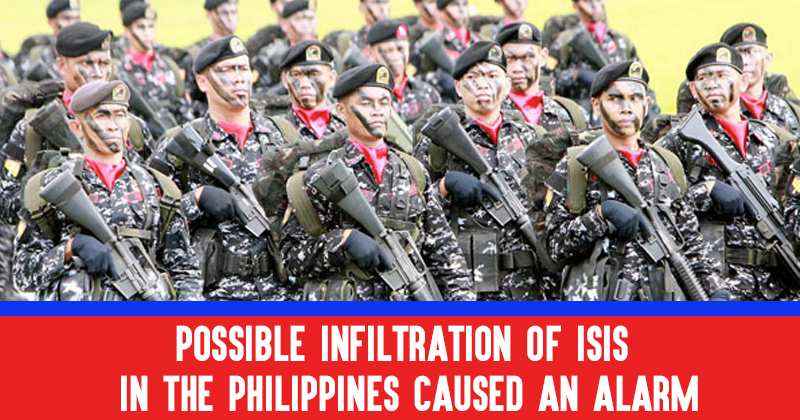 Last August 10, the president had a speech at Zamboanga del Sur in front of the military men. He told the Army that once the reports are verified, they must immediately arrest and deport ISIS indoctrinators that may infiltrate in the Philippines.
On Saturday, August 13, Western Mindanao Command (Westmincom) spokesperson Maj. Filemon Tan Sr., said in an interview that the army has raised their intelligence unit to confirm the report. Tan added, "We have also strengthened our operations to prepare."
Tan has refused to speak more vital information as it may thwart their tactical operations.
Even if those alleged Jihadist group members are defenseless, they can still be the start of ISIS threat in the country as what President Duterte said during his speech. As he spoke, "Just like the communists, this is alarming because of their power to condition innocent and unsuspecting minds."
The military troops who were assigned to monitor Davao City 10th Infantry Division assured that the citizens are safe and sound. On Friday, spokesperson Capt. Rhyan Batchar said, "We intensified our efforts to strengthen the security of population centers in our area of operations from all possible threats."
Last July 7, 2016, a threat from the international terrorist group was sent to Vice Mayor Paolo Duterte and caused an alarm to the city.
Yet, reports of any ISIS threats were not confirmed and verified as what Davao City Police Office (DCPO) Director Police Superintendent Michael John Dubria explained. He also added that the police is giving their all to protect and defend the people. As he spoke, "They have nothing to worry about. They have to be calm but still be vigilant."