16 Dec

Power Interruptions In CDO Implemented For Safety Reasons—CEPALCO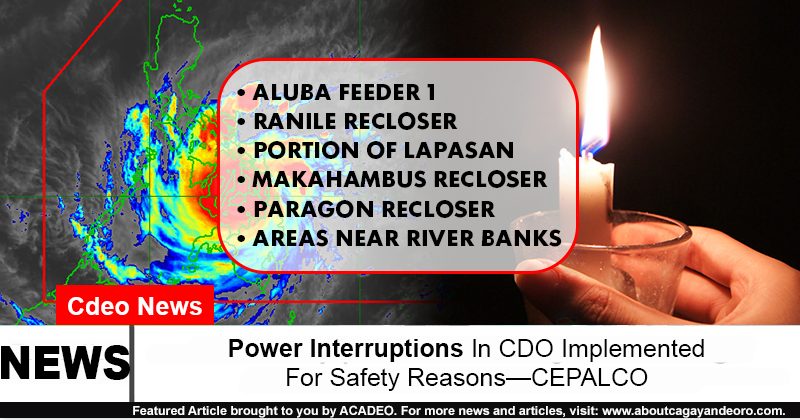 Mga higala! The Cagayan Electric Power & Light Company Inc. (CEPALCO) posted an advisory this afternoon informing the public that the recent power interruptions in Cagayan de Oro City were implemented for safety reasons!
The interruptions were done to avoid electrocution in areas with flooding caused by Typhoon Odette.
Below are the affected areas:
ALUBA FEEDER 1
Brgy. Macasandig from Aluba Subdivision Centro down to Tibasak and Tambo area.
Along Tomas Saco St. from Capt.Edrote St. towards Fernandez St. including St.Agustine Cathedral; including Fernhill St. up to 15th-26th St.Nazareth.
Along 26th St., Nazareth from corner 15th St. towards 14th up to Horse Shoe Drive.
Along Hayes St. from corner Velez St. towards City Hall area.
Along T.Chavez St. from Burgos St. up to corner Tiano Bros. St.
Along Cruz Taal St. bounded by Burgos St. and Tiano St.
RANILE RECLOSER
Along Vamenta Blvd., from Miami Inn towards Lower Balulang.
PORTION OF LAPASAN
Along Valenzuela St. from Lawesbra area to PPA Agora-gate.
Agora Market City area including Savemore, Sitio Sto. Niño, Sitio Lapaz 1, Sitio San Lazaro and Tabaco area.
Oroport Cargo Holding Services, Inc and Oroport Handling Service- Cold Storage at PPA Port Agora-Gate.
Portion along Gaabucayan Extension from Solid Shipping Lines Corporation to corner Mambato St., Agora including Little Cebu
MAKAHAMBUS RECLOSER
Vicinity of Burgos- Del Pilar towards City Hall area, including the vicinity of Marcos Bridge.
PARAGON RECLOSER
All of Kauswagan proper from Paragon/Kung Hua High School to Brgy. Bonbon and Brgy. Bayabas.
AND OTHER ISOLATED AREAS NEAR THE RIVER BANKS
Portion of Cugman, Tablon, Agusan, Bugo, etc.
Power will be restored soon as the safety of the affected areas is ensured.
For updates, just follow: