09 Mar

President Duterte Finally Signs Bill Raising Age Of Sexual Consent 16 Years Old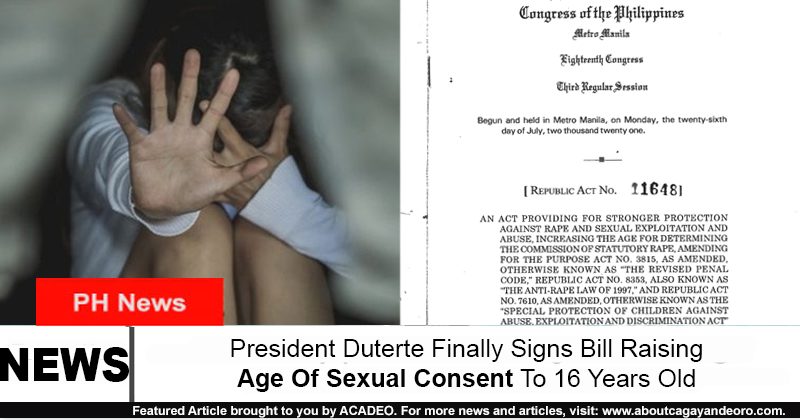 Mga higala! President Rodrigo Duterte has finally signed a bill increasing the age of sexual consent from 12 years old to under 16 years old!
Below is the said bill's (Republic Act No. 116481) description:
"AN ACT PROVIDING FOR STRONGER PROTECTION AGAINST RAPE AND SEXUAL EXPLOITATION AND ABUSE, INCREASING THE AGE FOR DETERMINING THE COMMISSION OF STATUTORY RAPE."
With this measure, any adult who has sexual intercourse with a minor below 16 years old (or a demented individual) will be guilty of rape even if the minor or victim has given his or her consent to the sexual act.
However, there will be no criminal liability on the part of the perpetrator if the age difference between him or her and the victim is not more than 3 years, and if the act is proven to be consensual, non-abusive, and non-exploitative.
(This exception will not apply if the victim is under 13 years of age.)
For the full details, read the Official Gazette file below:
www.officialgazette.gov.ph/downloads/2022/03mar/20220304-RA-11648-RRD.pdf