16 Mar

President Duterte Signs Law Mandating Inclusive Education For "Learners With Disabilities"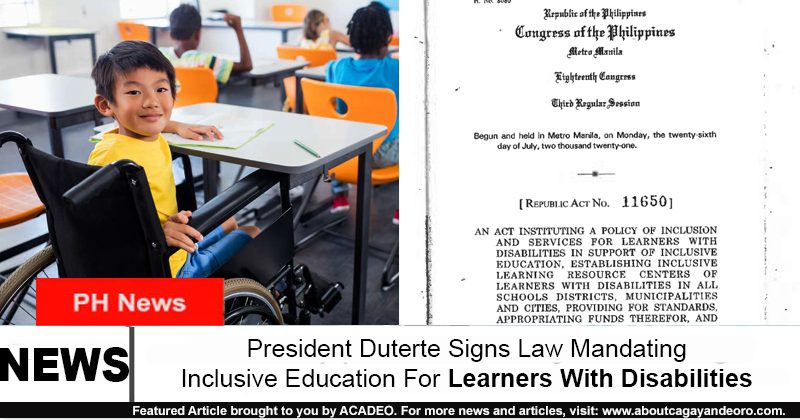 Mga higala! President Rodrigo Duterte has finally signed Republic Act No. 11650, a law aiming to ensure quality, accessible, and inclusive education for all learners with disabilities!
The said law, the Instituting a Policy of Inclusion and Services for Learners with Disabilities in Support of Inclusive Education Act, states that:
"It is the policy of the state to protect and promote the right of all citizens to quality education at all levels and shall take appropriate steps to make such education accessible to all. It shall recognize, protect, and promote the rights of all learners with disabilities, including those belonging to ethnic, religious, or linguistic minorities or persons of indigenous origin, to education based on equal opportunity, make such education compulsory and accessible to them by ensuring that no learner with disability is deprived of the right of access to an inclusive, equitable, and quality education, and promote lifelong learning opportunities for them."
Below are some of RA 11650's objectives:
To provide learners with disabilities free and appropriate early and basic education and support.
To establish and maintain Inclusive Learning Resource Centers (ILCR). All existing SPED Centers will also be converted and renamed to this.
To ensure that learners with disabilities develop their full potential toward self-suffiency.
To create significant and positive changes in community orientation towards disability to ensure that learners with disabilities are understood, appreciated, and respected by the members of their communities (and by society in general).
To increase school retention and cohort survival of learners with disabilities.
Pinaagi niini, mas mapalambo na ang pagtuon ug madugangan na ang opportunities sa atong mga higala nga naay disabilities!
For more details, read:
https://mirror.officialgazette.gov.ph/downloads/2022/03mar/20220311-RA-11650.pdf