07 Jul

President Rodrigo Duterte Started Communicating Rebel Groups in Mindanao, Talks About the Peace Process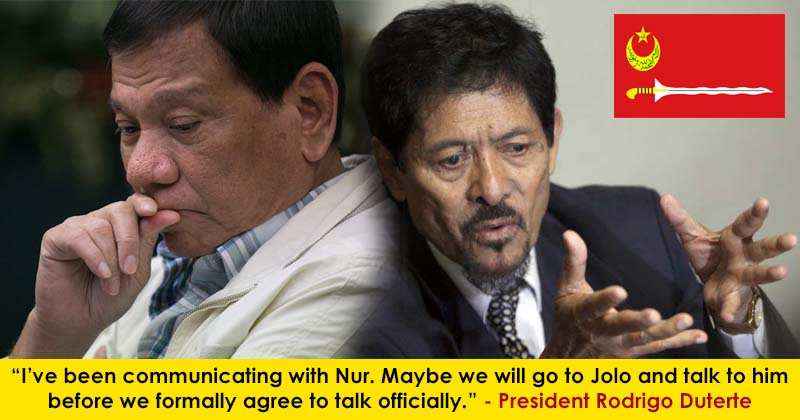 On Tuesday, July 5, during the 69th anniversary of the Philippine Air Force at the Clark air base in Pampanga, President Rodrigo Duterte said that he is already communicating with Moro National Liberation Front (MNLF) chairman Nur Misuari.
Duterte said that he is planning to fly to Jolo to have a conversation with Misuari about the peace talks. He said, "I've been communicating with Nur. Maybe we will go to Jolo and talk to him before we formally agree to talk officially."
He added, "I have my team already. I would not mention them now but they are ready sa government side."
MNLF is responsible for the recent Zamboanga siege in 2013.
Peace talks with the Moro Islamic Liberation Front (MILF) under the Aquino administration have not been pushed through. Duterte is also communicating with them. The previous administration has failed to pass a bill seeking to create the Bangsamoro political entity that will trigger the success of the peace talks with MILF.
Unfortunately, the Abu Sayyaf Group (ASG) has been unresponsive on Duterte's reaching out campaigns to them. Duterte hated their atrocities of kidnap-for-ransom and murder in the south.
Duterte said, "There will always be a time for reckoning and it will come. Maghintay lang kayo."