27 Jul

President Duterte Promised Faster Internet Connection and Free Wi-Fi in the Philippines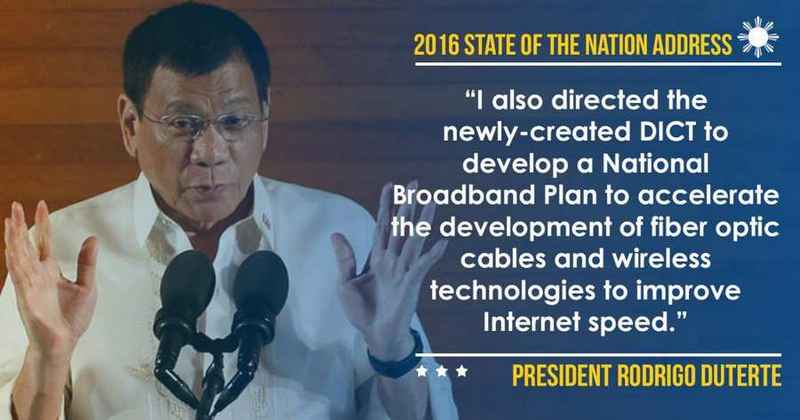 On Monday, July 25, during the first State of the Nation Address (SONA) of President Rodrigo Duterte, he assured the Filipino people that a faster Internet connection for everyone will be provided, as well as setting up Wi-Fi connections in most public areas in the country will be experienced by the people.
Duterte said during the SONA, "I have ordered the newly created Department of Information and Communications Technology (DICT) to develop a national broadband plan to accelerate the deployment of fiber optic cables and wireless technology to improve internet speed."
It was Duterte's former law classmate and well-known IT legal expert Rodolfo Salilima, who has been appointed by the President to head the department.
Duterte added in his statement during the event, saying, "Wi-Fi access shall be provided at no charge in selected public places including parks, plazas, public libraries, schools, government hospitals, train stations, airports, and seaports."
To start that goal, the President has already been working on a deal with PLDT earlier this month to provide free Wi-Fi service at NAIA terminals as well as other transportation hubs within the first 100 days of the new administration.
The Internet speed in the Philippines is at the bottom of the pack, lower than the other 7 ASEAN countries in the list, averaging only a 3.7 Mbps download speed.
The former Administration had set the minimum 256 Kilobytes per second (Kbps) for broadband Internet, an unrealistic benchmark considering we are now in the second decade past of the year 2000.
Even in the year 2000, that speed is less than average worldwide!
The President is looking to change that and to provide faster Internet connection in the Philippines, setting the minimum to at least 3Mbps and raising the average Internet speed in the country sooner than later.