04 Aug

President Duterte: "Destroy the Oligarchs that are Embedded in Government"

President Duterte talks in front of election volunteers in Malacañang Palace last Wednesday, August 3. In these speeches, he tackled about the oligarchs of his administration and he boldly mentioned one, Roberto Ongpin. He said, "Ang plano talaga is, destroy the oligarchs that are embedded in government. 'Yan sila, I'll give you an example, publicly – Ongpin, Roberto."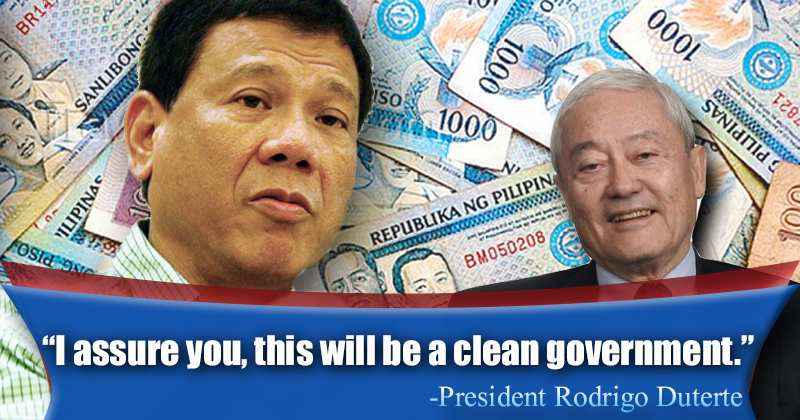 According to Forbes Magazine – American business magazine, Ongpin is one of the richest Filipinos in 2015. On that year, he had a net worth of $900 million.
The Securities and Exchange Commission was about to impose its en banc decision on Ongpin's case which involves the Philex Mining Corporation in 2009. But last Monday, August 1, the Court of Appeals halted the action.
PhilWeb Corporation and Atok Big Wedge Incorporated are two of the publicly listed companies of Ongpin, he is the chairman of these two firms. And the SEC forbids Ongpin to meet the board of any of his company and was fined P174 million for insider trading.
"Malakas kay Marcos, malakas siya and successful. [During the time of] Ramos, he was a hanger-on," said President Duterte.
Ongpin was Marcos's trade secretary, he is close to people in power. And Ongpin being a businessman who would use his political influence to strengthen his business, President Duterte said. Duterte also added that an online gambling business was also owned by Ongpin.
President Duterte said, "These are the guys na umuupo lang sa eroplano nila, umuupo sila sa mansion nila. 'Yung pera nila nagpapatak, parang pera ng taxi."
As what President Duterte promised during his first State of the Nation Address (SONA), "I assure you, this will be a clean government."