11 Aug

President Duterte is Ready to Retire Once the Philippines is a Federal and Drug-Free Country

Once the country is drug-free, President Duterte said he is then good for retirement as he speaks in front of 420 soldiers and civilian personnel of Army's Infantry Diamond Division (4ID).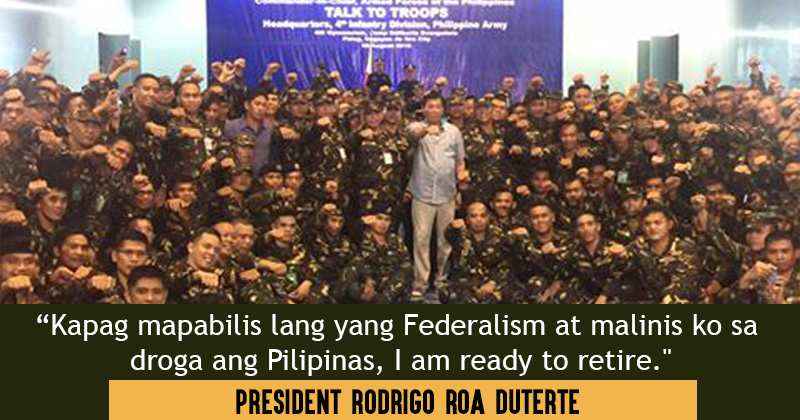 "Kapag mapabilis lang yang Federalism at malinis ko sa droga ang Pilipinas, I am ready to retire," the President states.
Duterte's administration aims to stop crime and drug trade in the Philippines. Individuals who are involved with illegal drugs are publicly named by the President through media a few days ago, these changes happened in his first two months of presidency.
"Let the countrymen know who are these people involved in drugs for them to protect themselves," he said. Doing so is an agreement of him being the President of the Philippines.
He added, doing this can spare the agony and misery of those parents who their children are victims of drugs and drug addicts, like their daughter being raped by a drug addict or their son being involved with drugs.
As he spoke, "I grieved for those women who were raped, men who were killed and raped infants."
The President also tackled about ending the fight against the rebellious groups in his speech.
He said, "It pains me deeply to really do that, to sign papers and documents to bring in more bullets and bombs just to kill more Filipinos but as much as you really want to be shining armor of peace, there are things that we really have to take care of."
He also addressed a violent group who desires to gain authority not through election but by combat, that he do understand the ideology these people believed in, yet, "meron tayong sentimento but we can't translate it to violence," he stated.
On August 9, Tuesday, President Duterte visited Camp Evangelista, Cagayan de Oro City, to attend the Talk to Troops event where he was also awarding officers. A gold cross medal was awarded to nine officers and enlisted personnel who showed courage during an encounter with around 80 heavily armed members of the New People's Army (NPA) at Valencia City, Bukidnon last August 5.
They were, 1st Lt. Lorefel O. Judaya, 2nd Lt. Marvin S. Jacinto, 2nd Lt. Jehiel P. Liw-agan, 2nd Lt. Aljosh Iman A. Arreola, Sgt. Harold D. Nimenzo, Cpl Raelcum T. Mendador, Cpl. Brendo C. Espiritu and PFC Jaynard E. Llander. These unit are under 1st Special Forces Battalion, Special Forces (Airborne), Special Operations Command, Philippine Army which is operationally supervised by 403rd Infantry Brigade of 4ID.
PFC Ricky Borja and PFC Richelle V. Sandigas were also awarded with a wounded personnel medal after having gunshot injuries during the second encounter.