08 Aug

President Duterte Demanded the NPA to Stop Using Landmines or He Will Call-off the Peace Talks

On Sunday, August 7, President Duterte said that the New People's Army (NPA) needs to stop the use of landmines either in their offensive or defensive stance. He also emphasized that any attack on the Government troops must be stopped, lest he will call off the scheduled peace talks in Norway between the communist leaders and the government peace panel.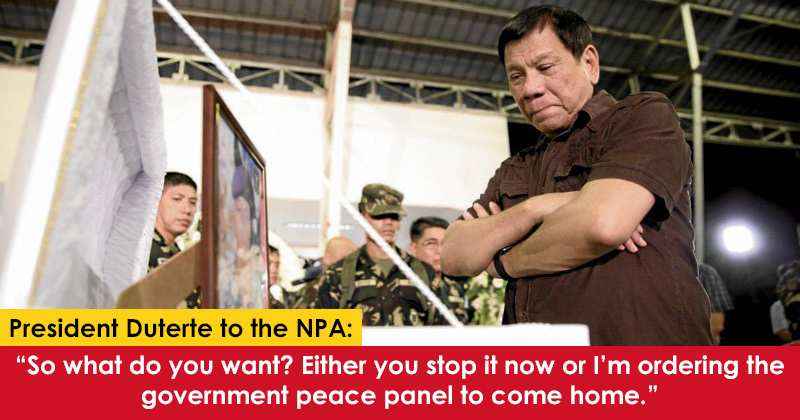 While he was in the wake of the four soldiers that has been killed by the NPA last week, he said, "You better decide now, tonight. I'm here in Davao. Decide now whether you want to continue using land mines and if you say 'yes,' I will also order the Armed Forces to use ordinance. That would be fair enough."
The NPA's use of landmines is a violation of the Geneva Convention on the conduct of war, which resulted in the death of the four soldiers and wounded many others last week in Compostela Valley.
The President went furious about the NPA's misconduct, he said, "What if I would also order the Armed Forces to use land mines against you. Which is which? It cannot be a different rule here for you or the armed forces. It should be even. What if I tell them to start using land mines for offensive or defensive purposes?"
He also added, saying, "Why should soldiers be the only ones to suffer? Let us all suffer. We have been at war for almost 45 years," he said. "Let's kill each other if you want. I am not difficult to talk to."
He addressed the use of landmines in the incident, saying, "You are the very first to cry foul when something goes wrong even in the handling of prisoners… I cannot understand for the life of me that if it is to your advantage, you invoke the Geneva Convention provisions. It cannot be a different rule for you and a different rule for the Armed Forces of the Philippines and the police. Or would you rather so that we will be equal, I will tell them to start using land mines for offensive or defensive purposes."
This behavior of the NPA triggered President Duterte to make an important calling off the peace talks once the misbehavior won't be corrected. He said, "So what do you want? Either you stop it now or I'm ordering the government peace panel to come home."
If they persist, the President will redirect the budget from the government peace panel to the military instead. He said, "I'll tell the military to buy a shipload of explosives."
This might then trigger him to grant the request of the Department of National Defense to recruit 20,000 additional troops.
He ended his statement saying, "that's why we are talking, I can be a communist party member but I will never go to war."