25 Mar

President Duterte Urges Agencies to Speed Up Delivery of Medical Supplies Amid COVID-19 Crisis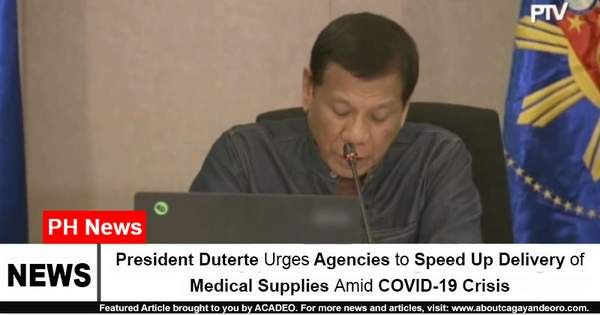 In a televised stream last Tuesday night, March 24, 2020, President Rodrigo Duterte gave his speech urging agencies to speed up the delivery of basic medical supplies and equipment to aid facilities amid the threat of COVID-19.
During his address to the nation, "From the approval, importation, and delivery- everything must go smoothly to make sure that we do not waste time."
He also called on authorities to cut red tape, "I do not want red tapes. I do not want so many questions. Pagka-cinertify ng isang government employee 'yan, I said do not commit the mistake and we will all be happy and comfortable."
President Duterte encouraged the public and the government officials as well to participate in the war against the spread of COVID-19 by adhering to the guideline and staying at home.
And lastly, "To my fellow public servants, let us set aside our differences and work in solidarity to overcome this pandemic. We only have one common enemy and that is COVID-19."
Watch the live stream below.