02 Dec

First 2016 Presidential Debate To Be Held in Cagayan de Oro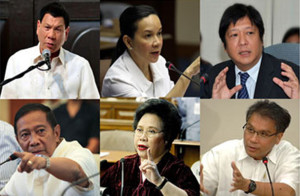 On February 21, 2016 will be the first Presidential Debate 2016 to be hosted by The Philippine Daily Inquirer and GMA 7 in Cagayan de Oro City.
The said event will tackle issues pertaining to agriculture development, poverty reduction and asset creating and redistribution, Charter Change, and peace and order.
Cagayan de Oro was eventually chosen to be the neutral ground of the said debate, with Davao as the other option. This decision was made by the Commission on Elections (Comelec) after Mayor Rodrigo Duterte formally filed his COC for presidency as recently announced by a local radio news program. The specific venue will be revealed soon.
The Mindanao leg will be followed by the Visayas leg which will happen on March 20, 2016 to be hosted by the Philippine Star and TV5, and lastly, the Luzon leg which will be on April 24, 2016 to be hosted by the Manila Bulletin and ABS-CBN.