06 Oct

What's In It for Cagayan de Oro? Promotion of Cagayan de Oro as a Travel and Investment Destination Faces Many Unfair Setbacks

Cagayan de Oro is not Mindanao! This may sound harsh at first, but if you analyze it from the point of view of travel, tourism, and investments, Cagayan de Oro as the gateway for Northern Mindanao and the sub-gateway for the BIMP-EAGA (Brunei-Indonesia-Malaysia-Philippines East-Asia Growth Area) is something boasted in name only. The physical reality is more of an eye opener since Cagayan de Oro is not getting its proper due as a gateway city. It continually faces many setbacks from unfair travel advisories, an inept government, and just from being a city in Mindanao.
Unfair Travel Advisories
To discuss foreign travel advisories, we use 3 major news events that happened in different provinces in Mindanao as examples:
September 8-28, 2013 was the Zamboanga City Crisis wherein so-called rogue elements of the MNLF laid siege to Zamboanga City and occupied a few barangays. Elements of the Armed Forces of the Philippines and Philippine National Police eventually lifted the siege and killed or captured a large portion of the MNLF force.
On January 25, 2015, the Mamasapano clash occurred in Tukanalipao, Mamasapano, Maguindanao province between elements of the Special Action Force (SAF) of the Philippine National Police and the Bangsamoro Islamic Freedom Fighters (BIFF) and Moro Islamic Liberation Front (MILF), resulting in the deaths of 44 from the SAF and 23 on the rebel side.
More recently, on September 21, 2015, 2 Canadians, a Norwegian, and a Filipino were kidnapped from a resort in Samal Island in Davao del Norte by MILF rebels posing as NPA regulars.
Within a day from these incidents, travel advisories from the US, UK, Australia, Canada, and the European Union are announced and circulated widely by the embassies of the concerned countries. In fact, any large-scale incident that occurs in Mindanao, even if no foreigners are involved (as in the case of Mamasapano) gets an automatic travel advisory. Even the Ampatuan Massacre earned its own travel advisory from Australia and Canada. Unfortunately, many of these travel advisories carry a blanket advisory for the whole Mindanao. Even with travel advisories that identify the specific area, as soon as any travel advisory comes out bearing the name "Mindanao," Cagayan de Oro is automatically affected and all tourist and investment momentum is thrown off course.
In contrast, Manila has the highest crime rate in the whole Philippines with an index of 38.57 (Region 10 as a whole has only 22.8, with Cagayan de Oro having the lowest in the region). In 2014 crime rates in the country rose by 17 percent, with crimes targeted against foreigners increasing by 8 percent. However, you don't see travel advisories being raised for Manila. It is unfortunate that the national government and local government doesn't see the unfairness of the situation towards Cagayan de Oro.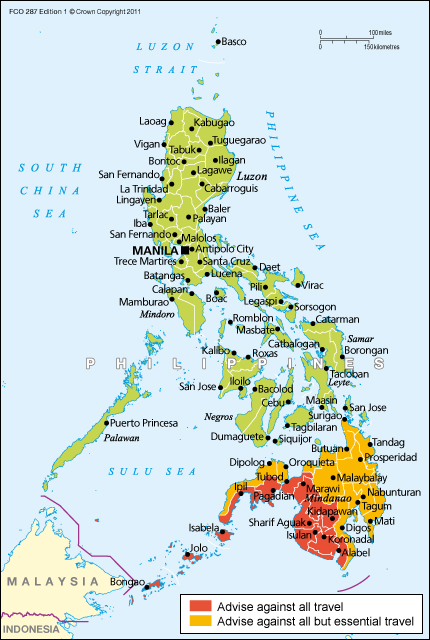 Take for instance this travel advisory map issued by the UK and other European Union embassies after the Samal Island kidnapping. The provinces in red are given an, "Advise Against All Travel" while the provinces in yellow are given an, "Advise Against All but Essential Travel." Notice that Cagayan de Oro falls inside the yellow area in spite of the far distance from Samal. Similar maps are part and parcel of almost every foreign travel advisory for Mindanao.
Hotel occupancies experience significant drops during the travel advisory duration as both foreign and local travel to CDO comes to a complete halt. Business meetings and conferences are either moved to another city or cancelled outright.
It cannot be stressed enough that these incidents, or any incident that happens in Mindanao, is never reflective or indicative of the entire island, let alone in Cagayan de Oro. As a major tourist and investment destination however, since time immemorial, any incident that happens in Mindanao stirs up an unfair misperception that includes CDO. With this misperception, you might as well say that the Battle of Zamboanga also happened in Cagayan de Oro since travel advisories tend to blanket everything as an unsafe destination for tourists and investors.
Pwede Malandingan Airport
A common joke going around the city is this new moniker for the Laguindingan Airport, "Pwede Malandingan Airport." Government needs to realize that CDO is a melting pot for travel because the city contains the only real, viable, and large airport to serve the region, even if the airport is a "Mickey Mouse" mishmash as some people have come to call it.
"Somebody or some people really made money from this airport. International airport? In your dreams," is what you normally hear from intellectual discussions around the city. For an airport to be considered up to international standards, the domestic section and international section should be visibly separate, with separate buildings if possible. For domestic airports, you need at least 10 pneumatic tubes (or capsule tubes as they are also called), and Laguindingan only has two. How can two tubes serve both domestic and international flights? Also, it is only recently that the national highway going to the airport has been getting major widening projects as well as diversion roads being constructed. If this airport is indicative of CDO as a tourist and investment destination, then government really has their hands full to bring the Laguindingan Airport up to real standards at least even as a domestic airport.
Promote CDO Advocacy is Lacking with Government
Both the national and local government must realize that to sell Cagayan de Oro, they need to answer the basic question of "What's in it for CDO?" What's in it for tourist guides, hoteliers, restaurateurs, and any business connected to the tourist industry? On this, the Department of Tourism, Department of Foreign Affairs, and the local government needs to get their act together and work together to sell Cagayan de Oro. Yes, SELL, the way you sell a product, because to sell a local 5-star CDO hotel or to sell the whitewater rafting you need to SELL THE DESTINATION.
Unfortunately, when local government officials are taken to task about tourism, the usual thing you hear is, "We have a lot of Koreans coming in," (as if they can put a number on these "Koreans" coming in) not realizing that we need to attract more than just Koreans. It also is sick to keep hearing government officials continually mouth off that travel advisories have little or no effect on tourism or that Mindanao has continuously demonstrated resilience even in bad times. Uh huh, tell that to CDO hoteliers who experience only a 25% or less occupancy during the duration of travel advisories.
Much can be done to sell Cagayan de Oro as a prime destination, but only government can truly push for a real "Promote CDO" advocacy. Business owners can only do so much because it's one thing to sell your hotel or tourist spot, but if tourists won't buy Cagayan de Oro, then you might as well kiss these businesses goodbye. Government needs to get their act together and think in terms of "What's in it for Cagayan de Oro?" if they want this city to be THE REAL GATEWAY CITY for Northern Mindanao and EAGA.  The ASEAN Economic Community 2016 is searching for a city outside of Manila to hold this large-scale conference. Is the local government doing anything to sell CDO?
Note: Every now and then aboutcagayandeoro.com and its parent company LogicBase Interactive LLC comes out with an opinion column to address a specific issue that affects the whole city as well as the region. The opinions, ideas, and even facts stated in the column however, do not necessarily reflect the views of the website and the company.