21 Nov

Protesters want Marcos' body exhumed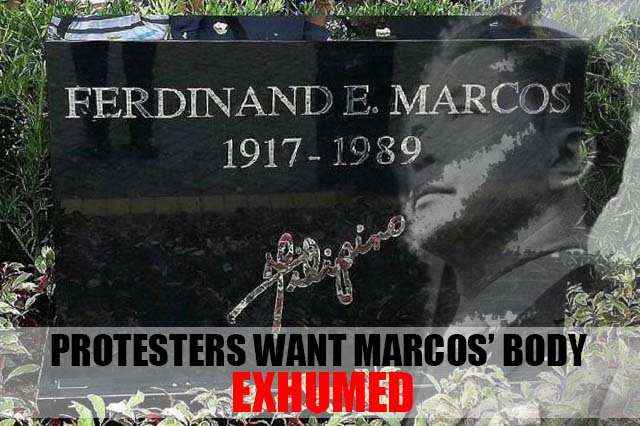 Anti-Marcos protesters vowed to have the remains of the late dictator and former President Ferdinand Marcos exhumed after the surprised burial ceremony at the Libingan ng Mga Bayani (LNMB) last Friday.
Thousands of protesters erupted on Friday from different schools and universities calling the burial deceptive and devious. Led by Albay Representative Edcel Lagman, whose brother Hermon disappeared during Martial law, demanded to the Supreme Court to order the exhumation of Marcos' body.
They also want to sue all government officials who are involved in the burial ceremony. Vice President Leni Robredo even described the surprise incident "like a thief in the night" saying that until the very end the late President was a thief.
Senator Francis "Kiko" Pangilinan vowed to undo the burial saying Marcos did not deserve to be buried at LNMB because of the atrocities committed during the Martial Law.
Critics also cited Marcos Family's ill-gotten wealth worth $5 to $10 Billion dollars.
Anti-Marcos protesters will stage a massive protest to greet President Rodrigo Duterte on his arrival from the 24th APEC Summit in Peru.