17 Apr

Switch To The Eco-Friendly "LPG Fueled Power Generator" Of Prycegas Now & Save Up To 40%

Mga higala! PRYCEGAS is now offering the first-ever LPG FUELED POWER GENERATOR in the Philippines! Switch and avail this eco-friendly equipment now and lessen your expenses, while helping reduce our carbon footprint!

It doesn't matter if you're a business owner or a homeowner, this Italy-made power generator will be of great use during power outages. It runs using Prycegas' Liquefied petroleum gas (LPG), instead of the diesel fuel used by other power generators.

With an 11kg Prycegas cylinder, this generator can last up to 30 hours with a maximum output of 8.0 kilowatts!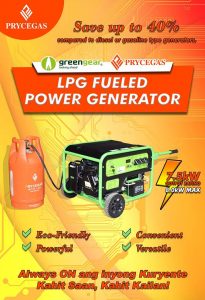 This LPG fueled power generator also has the following advantages:
LPG is cheaper and always available.
Generator noise/sound is reduced by 30-50%.
It is Eco-friendly.
LPG fueled power generators do not produce smoke.
Engine oil lasts longer.
Your LPG Generator Engine will last longer than a diesel generator.
For features and specifications, check out the image below: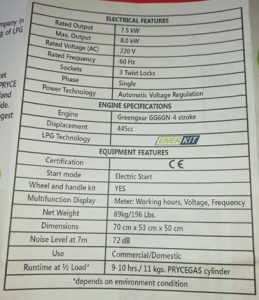 Are you interested higala? Just contact PRYCE GASES INC. with this mobile number: 0917-799-1145, or visit their Facebook page: Prycegas NMO.