19 Jun

RCB Investigates Sex Video In Cagayan de Oro City Circulating On Social Media; Warns Netizens Against Sharing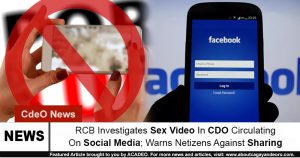 Mga higala! An investigation is now being conducted by the Regulatory and Complaint Board (RCB), regarding the sex video of students in Cagayan de Oro City, that's currently circulating on social media sites.
The students are said to be both minors and are from a prominent school here in CDO.
According to Antonio Resma Jr., the Inspectorate Team Leader of RCB, they are now trying to figure out where the sex video happened, so that they can execute appropriate measures.
We then messaged Mr. Resma, and here is what he wants to say regarding the rampant and thoughtless sharing of the video:
"I call on the public to exercise caution in sharing the sensitive video. Not only are they exposing themselves to possible legal actions and will face cases for the violation of RA 9995, but let us remember that the victims here are minors, so let's not be causes of further trauma to them. 
I hope at the end of the day our moral values will prevail. 
To the business operators, our partners, help us prevent these things from happening. Regulations are there to prevent this kind of incident and for the ultimate goal of protecting our children, so we hope for your cooperation."
For more details: