03 Jun

Relocation of CDO Fire Victims to be Executed Immediately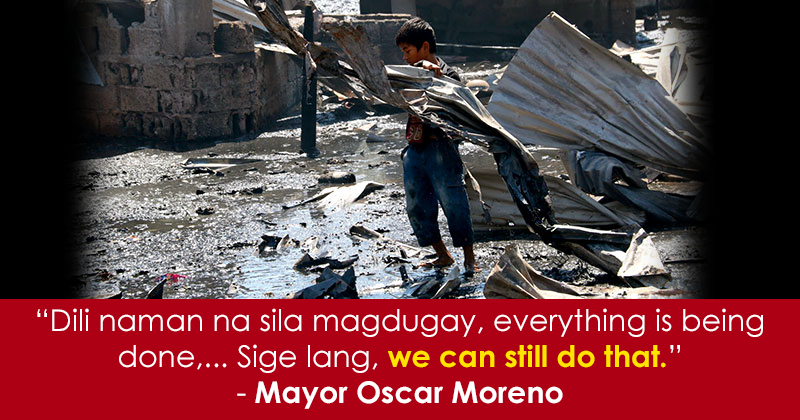 The Cagayan de Oro fire victims on May 20 have been staying in the Lapasan National High School for over 2 weeks now. The classes will start soon and many are concerned about when the relocation might happen.
According to Pee Jey Cagara, a teacher in the school, there are about 200 families staying there, spread across 32 classrooms.
Their concern is it might affect the incoming start of the classes on June 13. Even the Brigada Eskwela was not properly implemented in the school since the rooms were used by the evacuees.
"In a way, naapektuhan gayud ang kickoff sa Brigada kay ang uban classrooms wala gayud na-prepare para sa tingklase kay gigamit man lage sa nasunugan," said Cagara.
City Social Welfare and Development (CSWD) formerly stated that the relocation would happen in the last week of May. That, however, never materialized.
Mayor Oscar Moreno said that the city Government is very active in finding a relocation site. According to him, it is very difficult considering that the budget for it is still unapproved.
Moreno said, "Dili naman na sila magdugay, everything is being done, dili baya na sayon kay relocation site man gayud ang solution, they will need an area for a space, dili man na dali gud, it's a long process. Sige lang, we can still do that."
Moreno proposed P4.8 billion for it, but the city Councilor will not approve it. Instead, they will have their own before June 30.
"It's their call to approve budget. But that does not prevent us from doing remedial measures," Moreno added.
One of the victims, Melou Jean Lopera, who are in the temporary evacuation area said, "Gusto na gayud nga magtukod nami ug balay namo. Problema pud ang mga bata nako nga naa na sa elementarya, kay eskwela na pero wala pa gayud intawon silay mga gamit."
She also added, "Lisod kaayo, imbis naka-save nami sa balay, nag-ready nami para manganak napud ko, nasunog naman hinuon. Niundang nalang ko sakong trabaho gahapon kay lisod among kahimtang."
Looking back, the fire began on May 20 when a child played with a lighted candle around during the power interruption in the city. The house having light materials, made the spread of the fire faster more than anticipated.