08 Aug

Ozamiz City's Mayor Denies President Duterte's Statement on Him as Drug Lord/Protector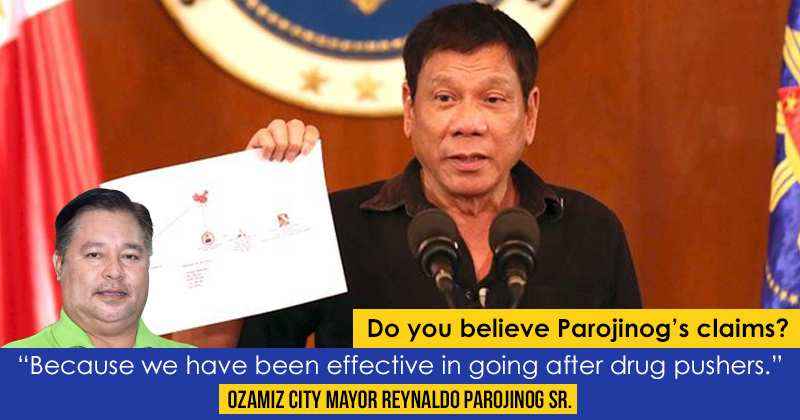 On August 7, Sunday, Ozamiz City Mayor Reynaldo Parojinog Sr., who has been the city mayor since 2001, has been tagged by President Duterte as one of the suspected drug lords or drug protectors in the Country.
Despite the President's name-and-shame-video to expose these drug personalities in the country and requiring them to show in their nearest Philippine National Police (PNP) office, Mayor Parojinog remains defiant and denied the claims that the President is accusing against him.
Parojinog claimed that he himself is strong in their campaign against illegal drugs in Ozamiz City. He said in a statement, "Because we have been effective in going after drug pushers, residents are now the ones giving the location of drug suspects. This has disrupted their operations."
He also added, "I cannot do this without your help, together let us rid this thing that has ruined our youth and our city's name."
The city mayor organized a fun run 5,000 people to show their support in their drive of eradicating the propagation of illegal drugs in the city and restoring its lost glory.
During the event in Cotta Fort grounds, he said, "This fun run is our way of showing that everyone must participate in stamping out this menace that has invaded our city."
According to Parojinog, the city is experiencing a massive drop in illegal drug business due to their extensive effort against it. He even said that violence can be done just to execute their combat against it.
He said, "The people are sick and tired of being dragged into this drug trade. They are now fighting back to reclaim the good reputation of the city."
Despite these talks of Parojinog, the people in Ozamiz city and nearby town and cities are still anxious about his supposed claim of fighting illegal drugs. The trust is not yet gained as more people still see drug users and pushers living in the city freely at large.