09 Sep

Rotary Club of CDO Premier Launches I.D.E.A. 2015 to Promote Peace and Conflict Resolution in Mindanao

The Rotary Club of CDO Premier is launching I.D.E.A. 2015 with the goal of addressing one of Rotary International's area of focus which is the promotion of peace and conflict resolution, for their Charter Year of 2015.

The event will be a two-day region-wide high school debate, essay, and art competition aiming  to spread the region's understanding of the peace process in Mindanao. In simple words, the event is meant to bring the Mindanao youth's perspective on the formation of the Bangsamoro Region and the Bangsamoro Basic Law at the forefront of national consciousness. Ensuring that both local and national press will be able to cover the event, as well as to give awareness on social media.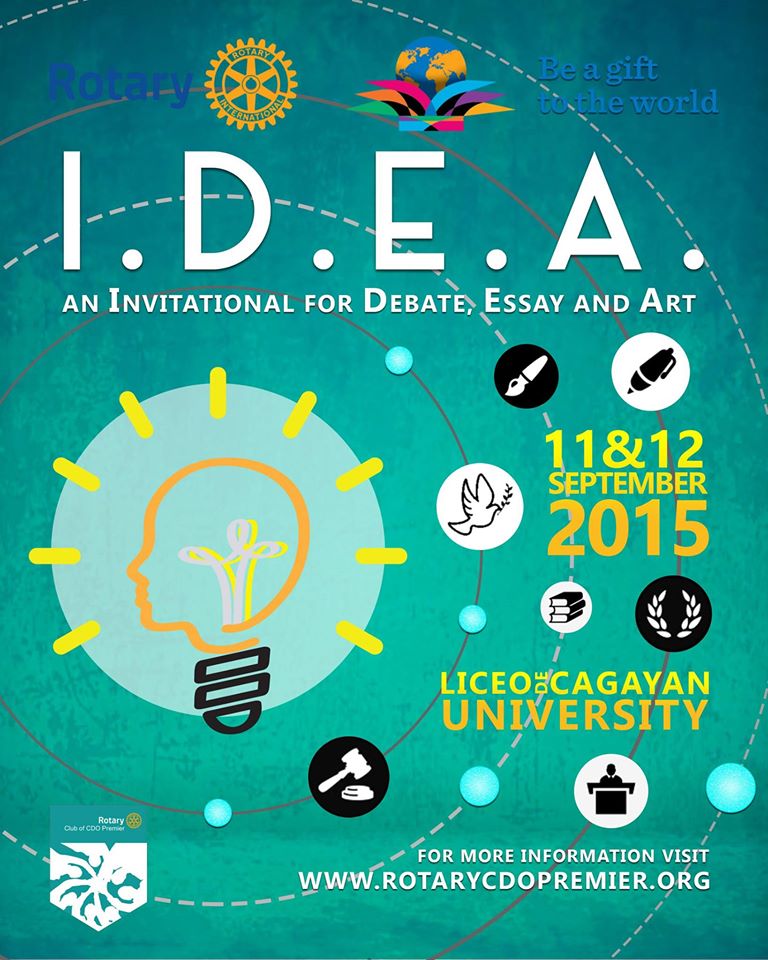 I.D.E.A. 2015 will be participated by over 100 high schools all over Region 10 in which the organizers have invited for 4 scholastic challenges, namely debate, essay, editorial cartoon and painting. The event will serve as a broad platform for the young citizens of Northern Mindanao to have their points of view be seen and heard, thus, the debate will be televised, the essays and the cartoons will be published in local and national newspapers, and the paintings will be exhibited in a local mall in Cagayan de Oro City.
Let us support and ensure the success of this event that promotes dialogue on "Peace in Mindanao".
The event will take place on September 11-12, 2015 at the Rodelsa Hall of Liceo de Cagayan University that will start from 8:00am until 5:00pm.
For more details, please check the official website of Rotary Club of CDO Premier at www.rotarycdopremier.org