10 Jun

RTA Member Overreacts and Misunderstood a Correspondent in CDO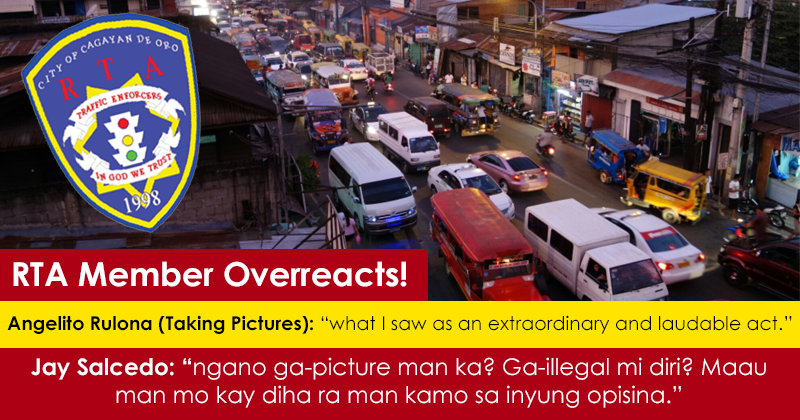 Angelito Rulona, a correspondent in Cagayan de Oro City, filed a complaint against a member of the Roads and Traffic Administration (RTA) for unjust vexation at the Police Station no. 5 in Puntod.
On Monday evening, at around 7:20 pm, Rulona took photos of a group of traffic law enforcers on C.M. Recto Ave. because he was amazed that the traffic enforcers were directing traffic despite the rain. He explained what he saw as an "extraordinary and laudable act."
But the member of RTA's Roving Team who is known to be Jay P. Salcedo a.k.a. Majimbo, confronted Rulona and said, "Ngano litratro, litrato ka man diha? Ilegal man kanang imong gihimo."
Salcedo clearly misunderstood Rulona in his act of taking pictures.
Rulona showed his press card and said that he is just documenting their work as traffic enforcers. He did not intend to humiliate Salcedo by posting those photos on social media and other media platforms having misleading captions. He is just awed by their dedicated work, and by that Salcedo has to calm down.
Yet, the furious Salcedo answered again, saying, "walay media, media sa amo karon, mao nang ga-ambuson mo ug pamatyon kay wala mo kabalo sa inyung trabaho."
He added with much anger in his voice, "ngano ga-picture man ka? Ga-illegal mi diri? Maau man mo kay diha ra man kamo sa inyung opisina."
Rulona tried to explain again that his cause is not what Salcedo thought to be, but instead Salcedo challenged Rulona to report the matter or file a complaint. He said, "Sumbong bisan asa kay atubangon taka. Dili ko mahadlok kay wala koy kahadlukan."
Rulona carried the matter to RTA chief Engr. Nonito Oclarit and RTA overseer Jose Edgardo Uy, and showed them the photos that he took. It was Oclarit and Uy who identified Salcedo based on the Photos shown by Rulona.
A letter of complaint was then sent to Mayor Oscar Moreno. Copies of the complaint were sent to this paper, the RTA, and Cagayan de Oro Press Club (COPC) president Msgr. Elmer Abacahin.