04 Jul

Sagpulon Falls: Jasaan's surviving beauty of nature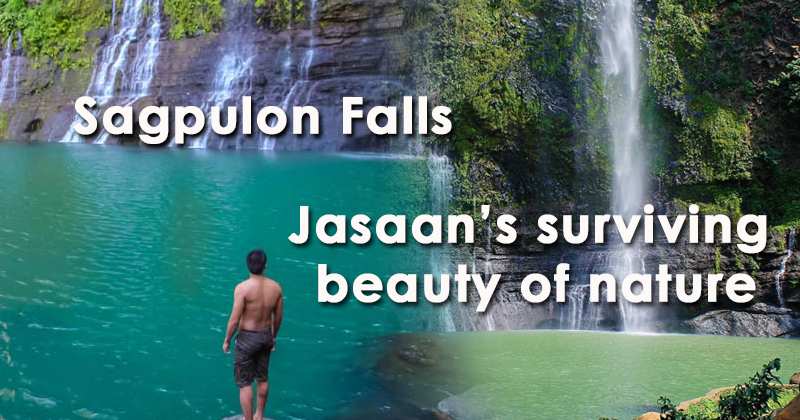 The beauty of the municipality of Jasaan does not end with the biodiversity and alluring waters of Agutayan Reef and White Island or the resorts that seemingly popping up from different places around the municipality.
Another thing of beauty just located not far from the heart of the town is the Sagpulon Falls where you can see a breathtaking stretch of aquamarine water and big hall of cliff where river water gracefully trickles from up above.
Sagpulon Falls has been a surviving witness to how the people in Misamis Oriental dusted themselves off and move forward after Typhoon Pablo hit the country in 2012. After that catastrophic event, the people in Jasaan rehabilitated the area around Sagpungon Falls and developed it into a mini resort so that it would be more convenient for visitors to immerse themselves into an almost amazonian experience and have a good time with their loved ones enjoying the cold water of the falls.
From Agora Terminal in Cagayan de Oro City, you could either take a ride by bus for around P30 or by jeep which will cost P25 only. For those who are not familiar with the place, don't forget to remind the driver or "konduktor" to drop you off near or at Spring View Resort and from there, you can now start looking for a "habal-habal" to reach Sagpulon Falls at Barangay San Isidro.
Upon arriving at the falls itself, you will be greeted by its 100-feet waterfall drop and its magnificent natural pool at its base. You could now start checking every bit of the virtually untouched forest and  take photos as you plunged into the water or just by striking a standing pose with the towering falls on the background. The water is cold enough to quench your body's thirst after long hours of travel from the city and your eyes' search for a time worthy of roll call at nature's simplicity.
With the availability of affordable cottages and picnic tables around, you could enjoy the food and drinks that you brought with you while listening to the calming sounds of nature.
Sagpulon Falls is a living testament on how human beings can still bounce back after being hit by a life-changing catastrophe. It is also worth noting that no matter how beautiful nature is, it still needs humans to survive the course of time and to recover from a devastating event. Let us learn to preserve the few surviving wonders of nature and let the next generations enjoy its beauty just as how we are enjoying it now.
Sources: