12 Oct

San Miguel OktoberFest: Buy 1 Take 1 BEER On Cagayan de Oro Bars Every Friday!

Mga higala! As part of San Miguel Brewery's (SMB) OKTOBERFEST celebration, a Freshness Overflow BUY 1 TAKE 1 Beer Promo will be available on participating bars in Cagayan de Oro City, every Friday, for the whole month of October 2018.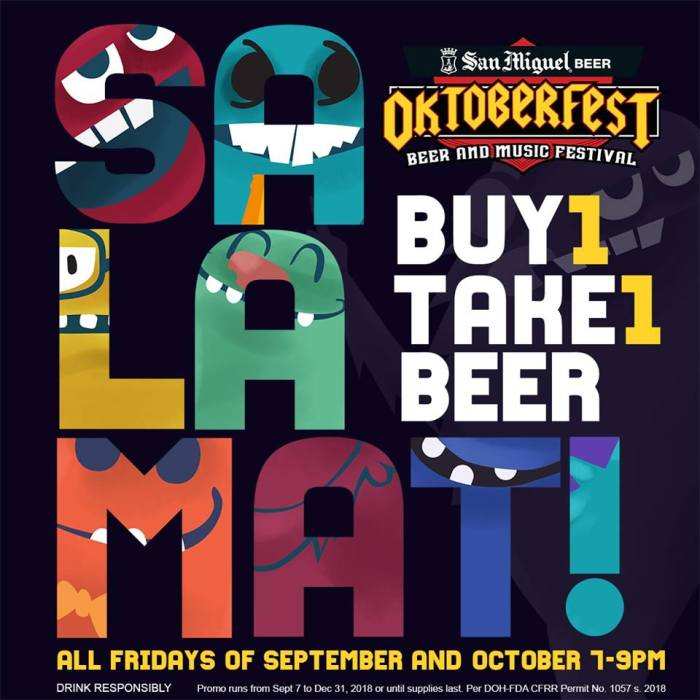 The Buy 1 Take 1 Beer Promo can be availed from 7:00 pm to 9:00 pm. Check out the list of bars by Sunstar CDO below:
Lifestyle District: Microphone Hero, Clark and Niks, Pistoleros Lifestyle, Zuris Crib, Wild Catch, Junno, Bistro de Paris, Fat Monk, Forth and Tay, Mykarellis, Royal Ember, For The Boys, Kenya, and Kardinal
Pueblo de Oro: De Kalsada Grill, Lights Bar, Bikes and Barrels Inc., Tagai Bai, Silver Rain, and Chimmy's Chicken & Beer
Cagayan Town Center: CTC Skybar, and Shave Bar
Corrales: Lokal Grill and Whatever KTB Bar, Jackals and BFB (Big Flat Bread)
NHA Kauswagan: Buko Bamboo, and Palochina Restobar
Centerpoint, Corrales: For The Boys Pub, Winghouse Sports Bar, Chix and Booze, Mary's Grill, Bad Burgers, Zuri's Crib, Probinseano, and Pistoleros Grill & Bar
Sportzone Complex Street: Autoporma Chill Corner, Eight Street, Subamos Restogrill, Nine High and Loretos
GC Building, Hayes Street: Haze Restobar, and For The Boys Tavern
LKKS Compound: Cusina de Oro, Ale Thaoke and Gerrys Grill
JR Borja Street: Rooftop Lounge Bar, and Slick Cafe
Upper Macasandig: High Ridge
Upper Taguanao: Ultrawinds
Indahag: Hugo Skye Lounge
To make the most out of this season, enjoy the OKTOBERFEST with your beloved friends and family higala!