16 Oct

Scaring the Spookiness Away: CdeO's Upcoming Halloween Events and Celebration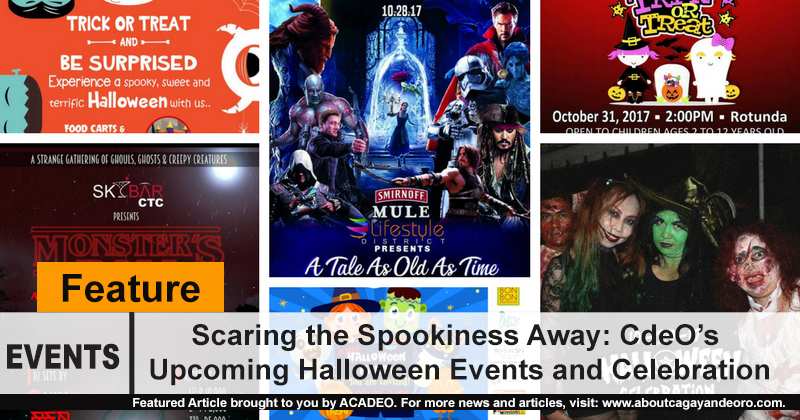 Christmas is fast approaching and we cannot help but get excited with all perks and the good stuffs that comes with it. But before you get all excited to hang your Christmas stocking for any gift from Santa Claus or rehearse your rounds of songs for carolling, do not forget to remember that what comes before the season of gift-giving and the birth of Jesus Christ is the season also dedicated to our dead loved ones and all the spirits and spooky stories that are retold over and over again during Halloween.
However scary connotations some may give to the term Halloween, humanity has found a long time ago ways how to turn the season's creepy image into something that would also make for an exciting and one of the most important occasions to look forward to. Hence, the birth of Halloween and costume parties and trick-or-treating.
Kagay-anons out there who are looking to join in similar parties for Halloween and to divert your attention from the spooky feels, this is your chance. In celebration of the Halloween season, some of your most favorited places to dine in and to pass the time will be throwing out treats for you and your pals:
"A Tale as Old as Time Costume Contest" at Lifestyle District (October 28, 2017)
A costume contest presented by LifeStyle District giving individuals or groups an opportunity to showcase their creativity in donning their favorite character in chart-topping fairy-tale themed and superhero movies such as Beauty and the Beast, Hansel and Gretel, Pirates of the Caribbean, Star Wars, The Avengers, and more.
"Monster's Ball" at Sky Bar Cagayan Town Center (October 27, 2017)
Sky Bar Cagayan Town Center's costume competition for those who are not weak-spirited and those who gets thrilled with anything scary. Just a reminder, wear your scariest to win bigger prizes.
Limketkai Center's Trick or Treat at Rotunda (October 321, 2017)
All seriousness aside, this event is for kids aged 6 to 12 years old so there you can expect to see and experience the colorful and innocent side of Halloween for free. Just in time for the semestral break, kids, this is your time to play and have fun.
"Trick or Treat and Be Surprised" at Xavier Sports and Country Club
Experience a spooky, sweet, and at the same terrific kind of Halloween with lots of fun games and activities.
Stargate Dream Vacation Resort's Halloween Celebration (October 29, 2017)
A jampacked scary and exciting night of Halloween celebration with lots of activities to pump your adrenals such as a visit to a horror house, trick or treat, Halloween parade, and more.
1A Express Hotel's Kids Halloween Party (October 28)
All treats and no trick, indulge yourself in this whole day's offering for kids and become the winner of an overnight stay in one of the city's premier hotels by wearing your best Halloween costume.
With these events lined up for you, you will no longer feel the heavy atmosphere of the Halloween season. In fact, you will just have to pick where are you going to show up and scare the spookiness away.