21 Oct

Notice to All CEPALCO Customers: Scheduled Power Interruption on Oct. 23, Sunday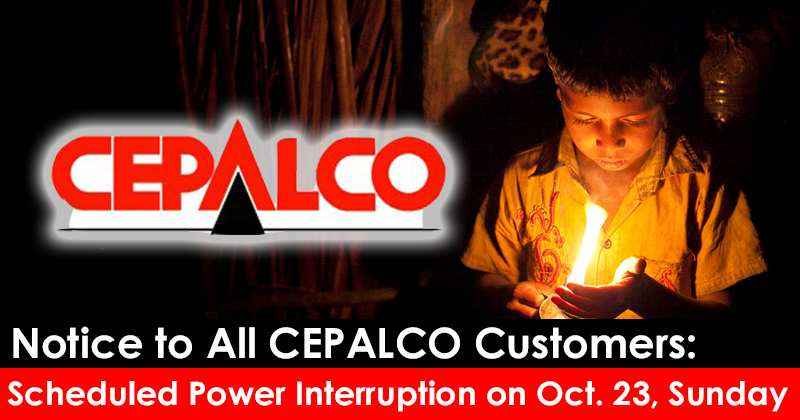 The Cagayan Electric Power and Light Company, Inc. (Cepalco) announced that there will be a scheduled power interruption on October 23, 2016, Sunday.
It will be a 12-hour outage and will commence at 6 a.m. and will last until 6 p.m.
The blackout will affect in some areas as to facilitate the request of Department of Public Works and Highways (DPWH) for pole structure revision to give way for the ongoing pedestrian overpass project constructed at Capitol University Medical City (CUMC), Gusa.
To take advantage of the interruption, Cepalco will also facilitate another segment of line conductor stringing works of 69KV Tablon-Puntod line project along Lapasan highway.
The blackout will affect the areas from Starlane Caltex Gas Station, Gusa down to CUMC Hospital to San Pedro, Gusa including Sta. Cecilia Subdivision and Mega Heights Subdivision.
A Greater portion of Lapasan from La Paz 2, Kolambog at Toto Borres Shop near Lily Kho Bldg, Lapasan Highway up to Camp Alagar, Lapasan including San Juan 1 & 2 and San Roque are also affected.
And a portion of corner Lapasan–Camaman-an Road from The Barn, De Oro Maramag, J.E.T. Hardware, Danson Metalcraft up to Kingdom Hall of Jehovah's Witness will also experience the blackout.
Additional 1 hour and 30 minutes power switching will be executed from 6 a.m. to 7:30 a.m. and from 4:30 p.m. to 6 p.m.
Affected areas are a portion of Brgy. Gusa Highway from corner Galaxy up to Shell-Capistrano Complex including Golden Alliance, Harbor Lights Hotel and Purok 7, Gusa and Dao, Gusa towards Camacawan up to Indahag including Alegria Hills Office.
Lapasan–Camaman-an Road from Sta. Cruz 1 to Natasha & BDO Building of Limketkai Complex including Grand Caprice, Parasat and Bagong Lipunan and Agora Market City area including Gaabucayan Extension and portion of Lapasan particularly Sto. Nino, La Paz 1, Tabaco and Savemore are also affected.
Cepalco stated that it will bring back the power immediately even earlier than the scheduled time when the line and switching operations are done.
Source: Cepalco