15 Jun

8 Schools from the Philippines Placed in the 2016 Asian University Rankings, Xavier University Included!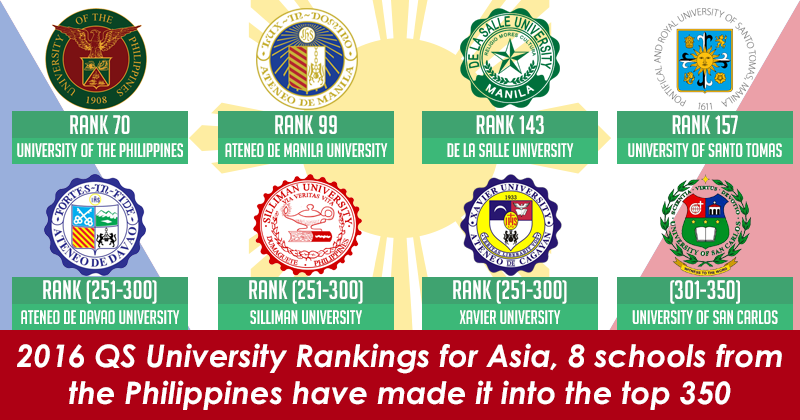 In the 2016 QS University Rankings for Asia, 8 schools from the Philippines have made it into the top 350.
4 Schools have already made the list last year. These are the University of the Philippines (UP), the Ateneo de Manila University (AdMU), the De La Salle University (DLSU), and the University of Santo Tomas (UST).
Joining them this year are Ateneo de Davao University (251-300), Silliman University (251-300), Xavier University (251-300), and University of San Carlos (301-350).
Ateneo de Davao University once made it to the list in 2014, ranking 251st among 350 top schools in Asia.
The previous 4 schools who have been included last year maintained their grip into their succession, but for two. Only the previously 3rd ranked University of Santo Tomas slipped to the 4th spot, while the former 4th-place De La Salle University grabbed the 3rd place among Philippine schools.
After UST was rated excellently on the following criteria: employability, facilities, social responsibility, and inclusiveness, it again received Quacquarelli Symonds (QS) stars (4 Stars).
The QS Asian University Rankings have been published annually by the QS since 2009.
The QS University Rankings for Asia adopts a methodology that consists of 10 indicators:
academic reputation (30%)
employer reputation (20%)
faculty-student ratio (15%)
citations per paper (10%)
papers per faculty (10%)
staff with a PhD (5%)
international faculty (2.5%)
international students (2.5%)
inbound exchange students (2.5%)
outbound exchange students (2.5%)
The Top 10 on the list are:
1. NATIONAL UNIVERSITY OF SINGAPORE (SINGAPORE)
2. UNIVERSITY OF HONG KONG (HONG KONG)
3. NANYANG TECHNOLOGICAL UNIVERSITY (SINGAPORE)
4. THE HONG KONG UNIVERSITY OF SCIENCE AND TECHNOLOGY (HONG KONG)
5. TSINGHUA UNIVERSITY (CHINA)
6. KOREA ADVANCED INSTITUTE OF SCIENCE & TECHNOLOGY (SOUTH KOREA)
7. CITY UNIVERSITY OF HONG KONG (HONG KONG)
8. THE CHINESE UNIVERSITY OF HONG KONG (HONG KONG)
9. PEKING UNIVERSITY (CHINA)
10. SEOUL NATIONAL UNIVERSITY (SOUTH KOREA)