01 Oct

Sen. Aquino Filed Resolution Concerning the Proper and Responsible Usage of Social Media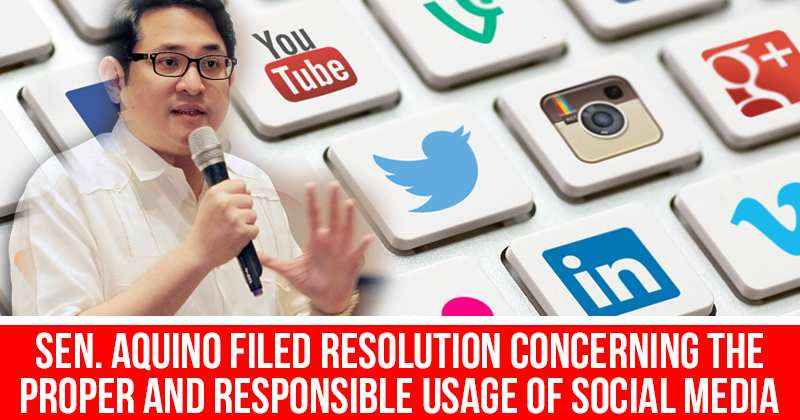 Senator Paolo Benigno Aquino IV proposed that schools should teach students how to properly and responsibly use social media as the misinformation and hate on social media is rampant.
To conduct an inquiry regarding the teaching of proper social media uses in schools, Aquino as the chairman of the committee on education filed Senate Resolution Number 173.
Those alleged "paid trolls" who were citing experiences in the recent May 2016 polls has become a global concern now and Aquino said he is troubled by the widespread misinformation and use of abusive language.
Aquino stated in his resolution, "There is a growing concern across the globe over how social media is increasingly being used and abused to spread fake news and misinformation. In the Philippines, this unfortunate phenomenon was observed widely during and following the recent national elections."
He added, "Aside from the spread of misinformation, the increasing use and regularity of abusive language in social media posts have also alarmed various groups."
Organizations who were worried regarding the global concern were cited by the senator such as Twitter's implementation of its new guidelines on removing and moderating abusive languages and Rappler's campaign, #NoPlaceForHate.
Compared to other traditional forms, social media is relatively new. Aquino stated, "social norms, best practices, and guidelines are still evolving."
Aquino said, "Our schools can play a critical role in guiding students to become ethical and productive digital citizens and to communicate properly and respectfully online."
He added, "Kung mayroon silang foundation of what is right, what is wrong, ano iyong nangyari, ano iyong hindi nangyari, pag online na sila ay mas may kakayahan silang suriin kung ano talaga iyong nangyari o hindi. It starts with our educational system."
---
News Source: Rappler