11 Aug

Senator Recto Urged for An Expansion of Rehab Centers to Cater 600,000 Drug Suspects

Last Tuesday, August 9, as the Duterte administration continues to fight down illegal drugs, Senate Minority Leader Ralph Recto asked for an expansion of drug rehabilitation system.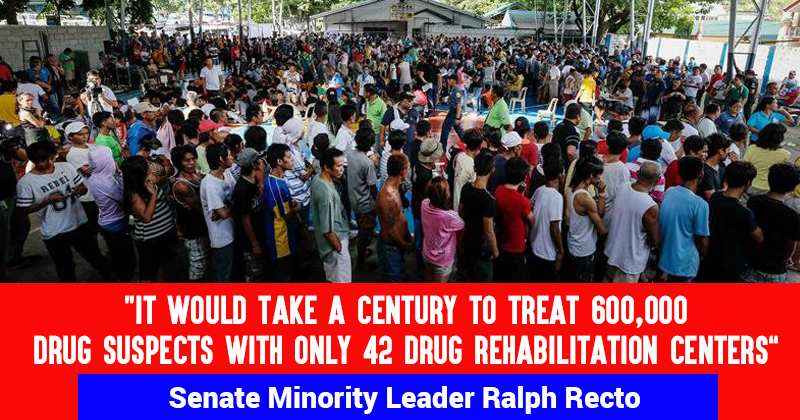 Recto states, "The expansion of the drug wars must trigger the expansion of our drug rehabilitation system."
It will take almost a century to treat almost 600,000 drug suspects who have already surrendered to the police, according to Senator Recto. This is based on the usual 6-month treatment period for drug dependents.
Recto added that if the number of rehabilitation centers in the country does not increase then it would take 200 years to rehabilitate all drug suspects.
As of Tuesday, there is a total of 543,416 drug dependents who surrendered to the Philippine National Police (PNP). There are 33, 527 drug pushers and 509,889 drug users.
Dangerous Drugs Board (DDB) estimated that there are 1,292,752 drug users in the country based on its 2016 national budget.
There are 42 drug rehabilitation centers in the country, 14 are run by the government while 25 are private and the other 3 are non-residential centers, this is according to Senator Recto's research.
DDB has a higher number of rehabilitation centers. According to them, there are 45 residential treatment and centers, 18 are funded by the government while the remaining 27 are owned privately.
But Recto defended that there are only 1,670 beds on a government-run centers, and 1,546 in privately-owned ones. With this, there are 788 patients who would compete for one bed in government-run centers.
Recto said, "In Metro Manila, there are less than 900 beds available, whether in government or private centers. In the entire Mindanao, there are only 315 beds. Imagine having just 315 beds in an island of 23 million."