10 Jun

Senior Citizen Couple Got Scammed by a Car Loan Credit Analyst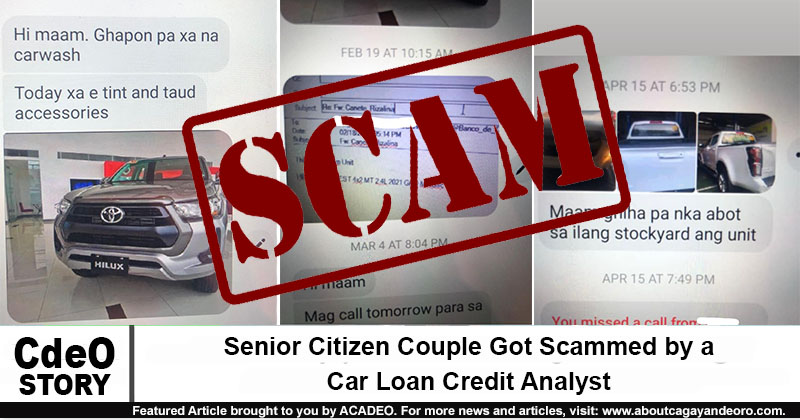 Mga higala! In a Facebook post by Ryanne Cañete, she shared how her parents got scammed by a credit analyst who promised to help them in availing a car loan.
Read her lengthy post below:
NA-ILAD AKONG PARENTS!
DECEMBER 2020
Akong Papa 59 years old ug akong Mama mag-65 years old. Sailang pangedaron, gusto nila ma-enjoy ilang hinaguan. 
So my parents decided to get a car. Grabe na kalipay ilang na-bati nga naay gi-recommend akong half brother nga taga BDO Car Loan. Usa ka Credit Analyst sa BDO Ketkai Branch.
Sa unang mga adlaw sa transaksyon, nagpasalig ang maong Credit Analyst nga ma approve daw ang loan. 
Nakita daw niya ang pending nga approval sa akong parents. Kay akong Mama nagpatabang sa usa ka manager sa pikas branch. Pero pending pa.
Og kaning Credit Analyst mi-ingon…. "ayaw lang saba ato nga manager Ma'am, sa Manila taka kuhaan og unit."
Intawon akong Mama, dako kaayong kalipay na matabangan siya, kay mao lage nabalaka nga Senior Citizen na, basin dili na ma-aprubahan sa bangko.
Fast forward… nakakita na og unit! Sa Mitsubishi Manila daw ang Supplier! Wow! Excited akong inahan ug amahan! 
Nibungat ang maong Credit Analyst og presyo. Ingon ani daw ang full amount. Ug kinahanglan nila mag down og 215,000 Pesos! 
Akong Papa intawon nga naningkamot maka-tigom. Ni-offer pa gyod, "pwede muhatag nalang ko mas dako nga down para gamay ra akong monthly?" 
Ug syempre, nisugot ang maong Credit Analyst.
So naka-down na akong Mama'g Papa og 347,200 Pesos! (Mao daw na computation ni Credit Analyst)
Nagpasalig ang maong Credit Analyst sa BDO nga approved na! 
JANUARY 2021
Naa nadaw ang unit… ug naa nadaw sa Pier! 
So intawon akong Mama'g Papa, excited kaayo muadto sa Pier.
Taas daw ang linya, wala pa nakanaog ang unit… Upat gyod ka adlaw nag balik balik sa Pier! 
Pagka-sunod adlaw, nianhe ang maong Credit Analyst sa balay. Nagdala og sulat,  gi-question daw ang loan sa akong Mama- Senior na daw siya, unya, walay co-maker! 
So akong Mama intawon nabalaka, naka-desisyon muadto og Gingoog para ipa-pirma akong Papa aron siya ang co-maker. 
Nagpasalig napod ang maong Credit Analyst nga kamulo na daw discussion. Kamulo na daw ang approval. 
So syempre kulbaan na akong Mama ug Papa, mura sila'g gahulat og result sa Miss Universe! 
FEBRUARY 2021
Ug sa dihang, anad siguro ni sa thrilling nga salida si Credit Analyst…. approve na daw PERO kailangan dugangan nila Mama ilang downpayment! 40% dapat!
Hoaaaayy, maoba??!!!
Ni-chika dayon si Credit Analyst nga gi-recall na daw ang unit nga naa sa Pier for safety purposes.
And akong Papa pod intawon nag change unit pa kunuhay! Sa Toyota Cebu! Kay mao lage nagsalig na nga approved na. 
So nahimo nang 498,000 Pesos ang dapat i-down sa akong Inahan ug Amahan. 
Nasuko si Papa, di na siya gusto mo dugang. So si Mama nalang nag-sekreto nalang og dugang og 21K para lang mapadayon ang loan.
MARCH 2021
Wala pa gihapon ang unit. 
Nakahibaw si Papa nga gipadayon ang loan.
Nangita'g way si Papa maka contact sa Toyota Cebu kay gikapoy na siya hulat. 
Ug sa dihang, na-kugang si Papa, wala daw silay ngalan niya nga naka-book og order.
So high blood si Papa! Naka-desisyon siya, i-cancel nalang. Mangayo siya'g refund. 
So nakugang si Credit Analyst kay syempre kailangan niya ibalik ang 498,000 Pesos! 
Gi-sekreto ni Credit Analyst si Mama, mag adto daw sila sa Toyota CDO para magpa-reserve. Aron lang dili ma-cancel ang loan.
Waiting gihapon. Hangtod ni-declare wala gyod unit nga gusto ni Papa. Unya nahibal-an napod ni Papa, nasuko. Ipa-refund gyod ang kwarta.
APRIL 2021 – HOLY WEEK
Niadto si Mama sa BDO, Wednesday nagkuha og bank statement saiyang account. Dayon walay ni-reflect nga refund. Gitawagan niya si Credit Analyst, naa daw siya sa hospital na-admit kay na disgrasya. 
Iyang pasumangil, ana daw iya kauban sa BDO,  Manager's check daw ang refund and walay office pagka-ugma. Kuhaon nalang daw sa Monday. 
Bayoooot! Holy Thursday na ha. Naka-sala siya. Intawon akong Mama, ni-too gyod! 
Sa dili pa mag Monday, para muadto ako Mama sailang office for refund. Timing kaayo nanawag siya pagka-Sabado gyod, mi-offer siya naa daw unit sa Makati. Naay promo!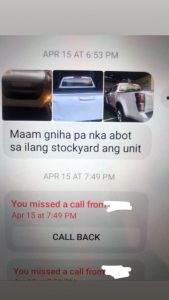 440,000 Pesos nalang ang down. So mag-refund ang bank og 58,000 Pesos.
So while waiting sa bank maghatag og 58K. Nag offer siya, mo-tapal sa og 20K. 
Ni-too na sad akong Mama ug Papa. 
Paspas ang process sa car loan. Hapit na daw ang unit… PERO naa nasad drama si Credit Analyst.
Nagdala og papel sa balay… wala daw free insurance akong Mama kay High Downpayment daw among car loan! 
Nangayo nasad siya og 48,800 for insurance! Wow sabaw! Kubalon og konsensya si Angkol!
Nangita intawon akong Mama og kwarta para ma-produce lang ang 48,800 Pesos for insurance. 
Pila ka-adlaw nagdala na og insurance policy si Credit Analyst. Okay na. Waiting na akong parents.
TAKE NOTE! Wala pana na-full refund ang 58k ha? 20K pa nahatag. Pero laban lang kay excited lage sa unit!
Sunod nga higayon, nagdala napod siya papel- schedule daw sa shipment sa sakyanan. 
Ang chika? "Layo paman ang shipment ma'am, mas maayo siguro mubalhin ta diri Isuzu CDO kay naa na sila stock pagka-ugma dayon!"
Halaka diha! Kugang! 
Pila ka-adlaw, approved na daw! 
Ni-chika pa imong Angkol 
"Asa ang kaon Ma'am?"
"Magpa-blessing na gyod ka ani Ma'am!"
Oh diba? Ang kapal! Maki-kaon pajod ang piste!
So akong Papa, nianhe gyod tawon sa CDO from Gingoog kay excited sa car. 
Ug sa dihang, nagsugod na ang most awaited episode of this teleserye!
Ming-hawid sa kamot sa akong Papa si Credit Analyst. Nihilak bayooooot!!!!! Miluhod!
Ang chika??? 
"Sorry sir wala gyod na-approve. Walay purchase order."
HALAKA YAWA (aww sorry Lord)
Kugang ang tanan people sa balay. 
So nasuko akong Papa. 
Nagpasalig ang maong Credit Analyst, ihatag daw niya iyang sakyanan, ipahulam sa niya, while wala pa daw sa refund from the bank. 
FROM THE BANK HA? So gipanindigan gyod niya nga naa sa bangko ra ang kwarta. 
So akong Papa nanigurado, gikuha iyang sakyanan kay basin di na mauli iyang kwarta. 
MAY 2021
Daghan siya pasumangil. FLOATING PADAW ANG REFUND. Sige ra niya sugoon akong Mama, muadto sa ATM para mag balance inquiry. 
Intawon, sobra napulo nag balik balik akong Mama sa ATM. Tag-dos baya kada inquire dzaaiii! Unya senior pa nag gawas sa balay!
FAST FORWARD KARON…. nag positive daw si Credit Analyst. Apan ang refund???? Negative gihapon 😢😢
UPDATE: Nag-report ako half brother sa BDO kay na scam pod siya. It turned out 18 accounts iyang na-scam. Daghan siya wala gi deposit na bayad. 
Ang pangutana: gi-unsa niya pag lusot ani 18 accounts iya gi-ilad?
*END OF POST*
Read the original post below: