31 Mar

Seven Seas Waterpark To Use Water-Treatment Machine To Produce Chlorine-Based Disinfectant Vs COVID-19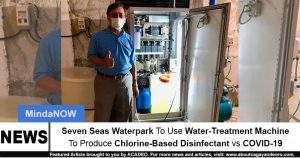 Mga higala! Seven Seas Waterpark will be working with the XU Chemistry Department to produce chlorine-based disinfectants, using their CHLORINSITU® IIa machine, to help our frontliners!
According to a post by Elpidio M. Paras, this machine can produce 815 liters of Sodium Hypochlorite (NaOCl) solution daily, which when diluted down with water is equivalent to 7,000 liters of surface disinfectant.
This machine was supposed to sanitize their wave pool this summer, but will now be used to help in the fight against COVID-19.
For more details: