18 Jan

SM College Scholarship 2022 Now Accepting Applicants: Full Tuition, Allowance, & More!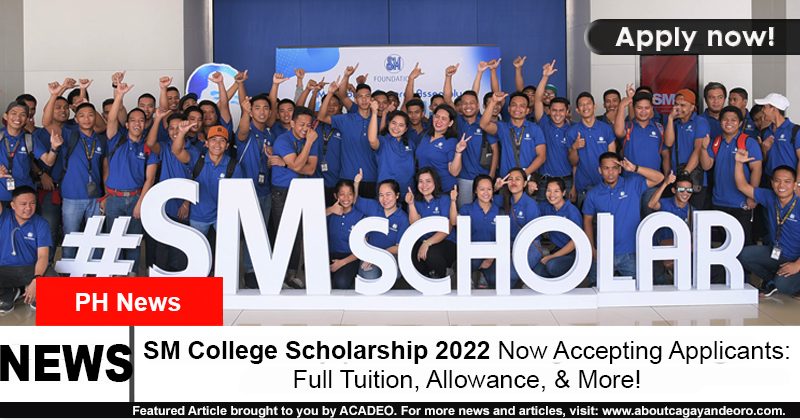 Mga higala! SM Foundation's SM College Scholarship for 2022 is now accepting applicants!
Here are the offered courses:
BS in Computer Science
BS in Information Technology
BS in Electronics and Communications Engineering/ BS In Electronics Engineering/ BS Electronics Engineering
BS in Computer Engineering
BS in Civil Engineering
BS in Electrical Engineering
BS in Mechanical Engineering
BS in Accountancy
BS in Accounting Technology
BS in Accounting Information Systems
BS in Internal Auditing
BSBA in Financial Management
BSBA in Management Accounting
BS in Elementary Education
BS in Secondary Education major in Biology, Chemistry, General Sciences, Physics, Mathematics, English
Interested? Wanna apply? Below are the benefits, qualifications, and other details:
BENEFITS
Choice of specialization
Full tuition
Monthly Allowance
Part-time job opportunities during breaks
QUALIFICATIONS
Grade 12 graduates from public and private schools in the areas covered. Applicants from private schools must have a DepEd voucher and must be Grade 10 finishers from public high schools.
General weighted average grade of at least 92% or its equivalent for Grade 12 – 1st semester.
Total household income of at most P150,000 per year.
REQUIREMENTS
Accomplished online application form
Attachments to the online application:
Parent's or Guardian's 2019 Income Tax Return / Certification of Non-Filing of Income / Certificate of Indigency
Latest Grade 12 report card
Birth Certificate
2×2 ID picture
Sketch of home to the nearest SM Mall
AREAS COVERED
Luzon—NCR, Albay, Bataan, Batangas,Benguet, Bulacan, Cagayan, Camarines Norte, Camarines Sur, Cavite, Isabela, Laguna, Nueva Ecija, Palawan, Pampanga, Pangasinan, Sorsogon, Quezon, Rizal, Tarlac, Zambales
Visayas—Capiz, Cebu, Iloilo, Leyte, Negros Occidental
Mindanao—Agusan del Norte, Davao del Sur, Misamis Oriental, South Cotabato, Zamboanga del Sur
APPLY NOW: https://scholarship2022.smicit.com/login
For more details:.
www.sm-foundation.org/what_we_do/college-scholarship-program