14 Jul

Smart To Hold Mobile Legends Tournament In CDO, Total Prize: P30,000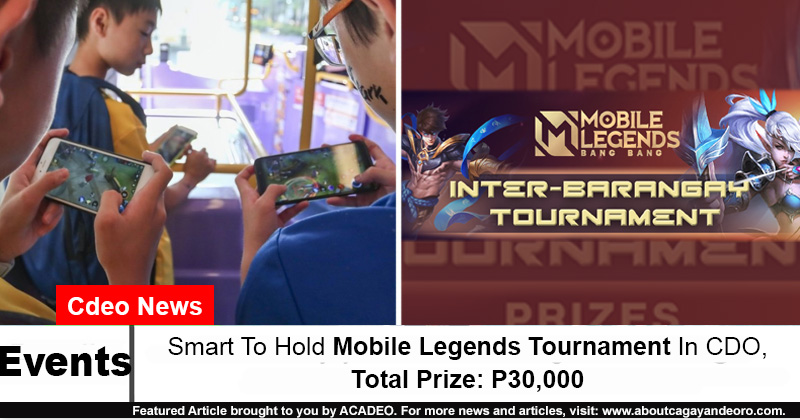 Mga higala! Smart Communications, in partnership with the office of Deputy Speaker Rufus Rodriguez and Youth With Cong. Rufus, will be holding a MOBILE LEGENDS tournament in Cagayan de Oro City!
This tournament will have the following cash prizes:
2nd Runner-up: P5,000
1st Runner-up: P10,000
Grand Champion: 15,000
Interested? Below are the rules, requirements, and more:
PLAYER REQUIREMENTS
Players must join in 1 team only
Players must be available for all tournament dates and time
The act of registering for this tournament implies full acceptance of all terms, conditions, rules, and regulations stated, in its entirety;
MUST BE A RESIDENT OF CAGAYAN DE ORO
All Players must be a GRANDMASTER rank and up
This tournament is exclusive only to Smart/TNT users
Must like the official Youth with Cong Rufus Facebook page
Must like and share the Mobile Legends Tournament post from the Youth with Cong. Rufus page: facebook.com/CongRufusYouth
 Must like Smart Play Mindanao facebook page:facebook.com/SmartPlayMindanao
Players must be 18 to 30 years old
TEAM REQUIREMENTS
Must consist of the following players per team: 5 members; including 1 team captain
Replacing any registered players are strictly prohibited
By registering, Teams acknowledge that all usage of photos, videos, and any form of recording during the tournament have been given legal consent by the players for media and tournament purposes
One team shall represent every numbered barangay and two teams every rural barangay
Only people from the same BARANGAY can form a team
There shall be NO TEAMS composing of mixed barangays
TOURNAMENT DETAILS
Each team will be paired randomly to another team and battle for single elimination. The other team that will lose the battle is automatically out of the tournament. The winning team will continue playing in the tournament and fight for the title
There will be an official Messenger Group Chat for the Team Captains
Teams are expected to be in the in-game lobby at the designated time and given a 10-minute before the game match starts
If one team is not ready at the designated time, the match will continue
IN-GAME RULES
The first team to destroy the opposing team's base will win
Only the host, referee, and admins/moderators can create the lobby
Skins are allowed
No in-game chat allowed to avoid trash talking
Draft pick will be used in semi-finals and finals matches
The finals will be a best of 3 match, other matches shall be single elimination
Wanna register? Just coordinate with your respective Sangguniang Kabataan (SK) officers!
For updates and more details, follow: