04 Jun

Spring Boudoir Mini-Sessions Photography by Jessie Villegas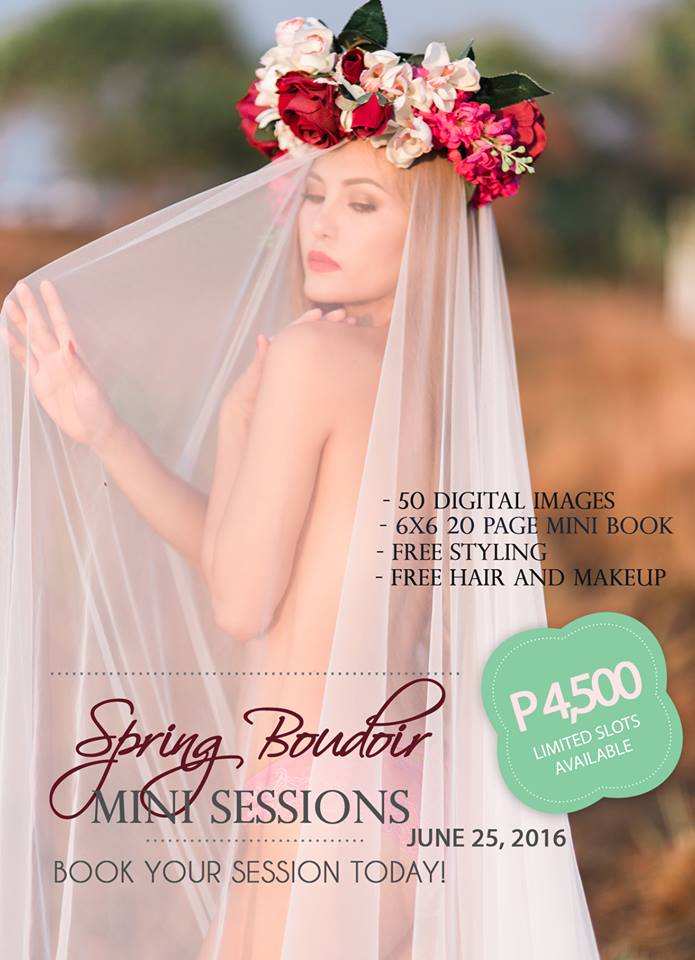 June 3, 2016 – Cagayan de Oro – Jessie Villegas – Cagayan de Oro's leading boudoir, maternity, and bridal photographer, presents the Spring Boudoir Mini-Sessions Photography on June 25, 2016, at the Pacifico Boutique Hotel.
The mini-session is priced at P4,500 and includes 45-minute photo-shoot session, 50 hi-resolution digital images in color and black and white, professional hair and makeup, and a little 6X6 20-page black book album with the images. Mini-Session slots are limited so you need to book in advance.
Boudoir photography is a photographic style featuring intimate, romantic, and sometimes erotic images, primarily intended for the private enjoyment of the subject and their romantic partner. It is entirely different from nude art photography in that it is more visually suggestive rather than explicit in its approach to nudity and sexuality. Featured subjects are normally not professional models or have never had any experience with photographic sessions as the images are not intended for a wide or mass audience.
For this boudoir session by Jessie Villegas, her intention is to feature the woman's body as beautiful, complex, and intriguing, regardless of whether she is a bride-to-be, married, single, or even pregnant. She wants her subjects to be curious enough and realize that everyone can do a boudoir shoot regardless of whether they are short, tall, thin, or heavy.
At the boudoir session each client will be pampered, starting with the hair and makeup that will be done by no less than Cagayan de Oro's best, Len-Len Anaya. The photographer will provide blankets, rugs, props, and even fashion jewelry to serve as props. However, the client is greatly encouraged to bring as many comfortable outfits as she can suitable for boudoir photography. The stylist can help you choose your outfits.
Jessie guarantees that only the most flattering angles will be photographed so she will coach the client throughout the session in an almost play-by-play fashion. Even pregnant women can be photographed in boudoir fashion. Clients can also relay in advance if there are any tattoos, acne, scars, and cellulite they would wish not to come out in the photographs.
Turnaround time for all photographs is about 3 weeks including the album. If for some reason a client may feel squeamish about doing the mini-session at a hotel, they can discuss a home service with the photographer in advance.
About Jessie Villegas
Jessie is a Cagayan de Oro-based fine art wedding photographer specializing in boudoir, maternity, and bridal photography. She also does modern portraiture of maternity, newborn, children, and families, as well as fashion and wedding photography. Aside from Cagayan de Oro Jessie also services other key cities and areas like Ozamis City, Camiguin Island, Misamis Oriental, Davao, Bohol, and Cebu. To view her artistic and photographic images, you can find her on Facebook at Jessie Villegas and Capturing Smiles Photography, and follow her on Instagram. You can also follow her on Twitter @winter_fairy or e-mail at jessicajanewriter@gmail.com for inquiries.