01 Sep

Streetby Parcel Delivery Launching, Laundry App, and Streetby Top-up Wallet

At present time, mobile apps play a fundamental role in our daily lives and undoubtedly assist us to function and double our productivity. Agila Innovations Inc, the brilliant makers of Streetby – a total lifestyle app, proudly Mindanaoan – to revolutionize the e-commerce through serving technological innovations to entrepreneurs and providing convenience and exceptional customer service to consumers.

Currently, this homegrown app has proven its capacity in catering food deliveries for both SME and large enterprise establishments in Cagayan de Oro.  Its average orders per day has rocketed since 2017.  With its growing number of users, presently at almost 15,000, Streetby now unveils its new feature: Parcel Delivery.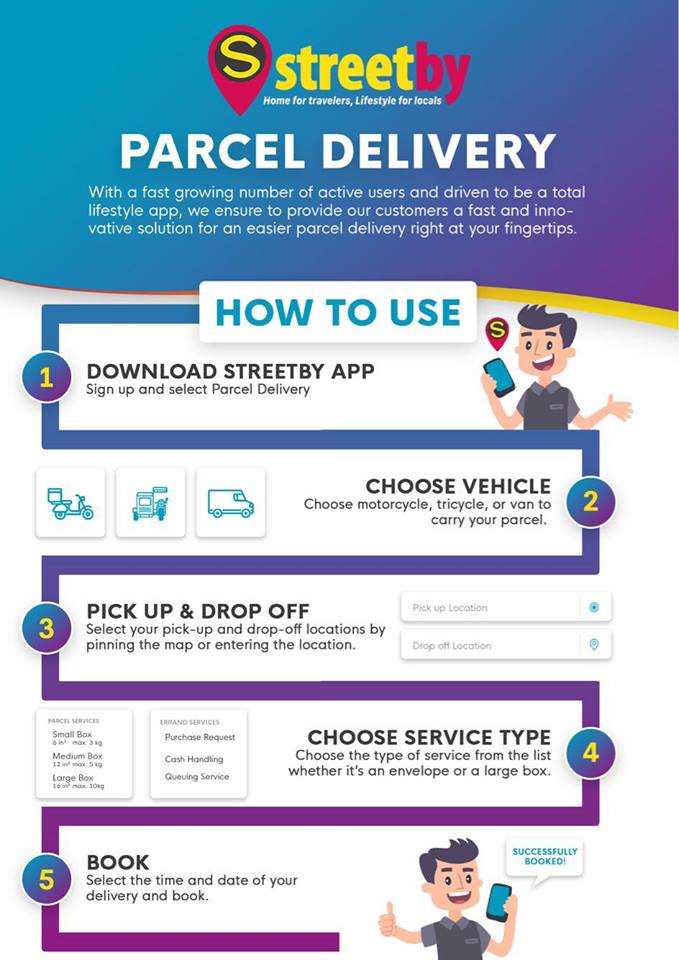 StreetBy aims to provide a fast, reliable, and convenient way to access parcel deliveries right at your fingertips. Below is the list of advantages when parcel delivery will be accessible through StreetBy:
1. Payment method includes StreetBy wallet, debit / credit card, and PayPal.
Insured parcels
Well-trained and knowledgeable delivery riders, ensuring proper handling of parcels.
4  Parcel status alerts and notifications.
It allows you to organize and keep a record of your transactions.
Booking-ahead option
Delivery Info and Photo shown on the app.
Additional features – Item purchase orders, multiple stops, queuing service, and cash handling.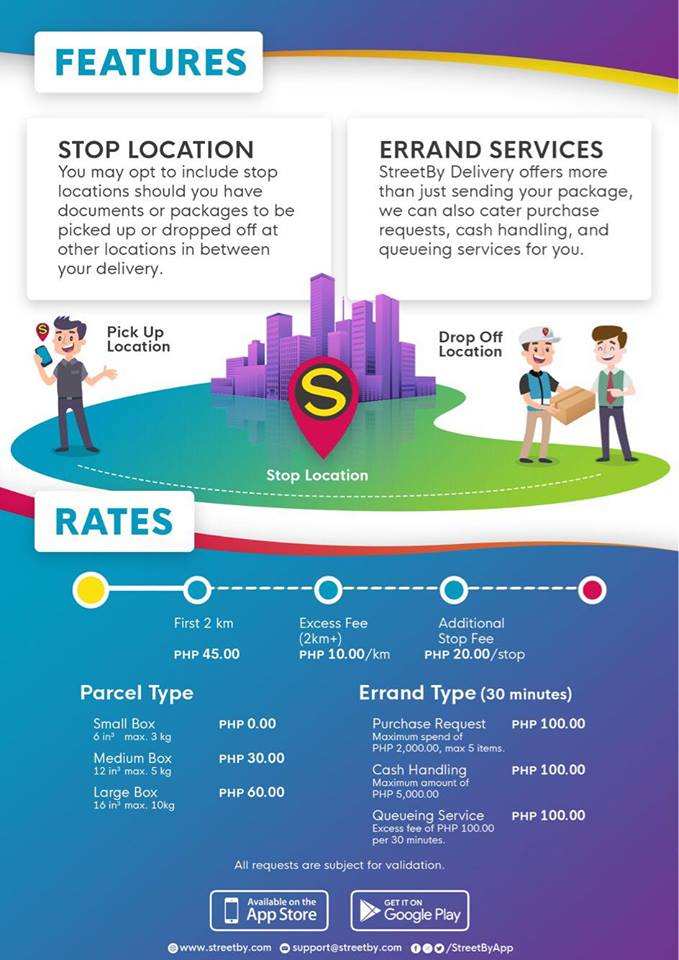 StreetBy, with our dedicated team, is committed to handle every parcel with utmost care. StreetBy aims to become the trusted parcel delivery mobile app catering to a wide range of services.
Kagay-anons will also celebrate the unveiling of two new features of StreetBy: Laundry App and StreetBy Top-Up.
The Laundry app is designed to assist individuals who are preoccupied with work and other activities and assist them with their laundry tasks.
Doing the laundry process itself consumes time; quite a demanding chore especially for those with hectic and fast-paced schedules. It proves to be quite a gruelling task for an individual to manage their tasks when certain other important activities are already lined up. Thus, Streetby's on-demand laundry app comes to saving individuals from investing their important time into washing clothes. Not only is it beneficial to users but it has also opened the doors for opportunities in the laundry service industry.
The following are StreetBy's exceptional laundry features on the app:
Customer Account Setup Panel
Scheduling of Convenient Pickup & Delivery
Laundry Order Tracking System
Order History Records Maintenance

5. Multiple Laundry Merchants

View Nearby Laundry Service
Select Laundry Type and View Services
Discounts
Payment through Cash, Debit/Credit Card, and Paypal
Users can now top-up their wallet for a more cashless StreetBy experience. StreetBy has made it more convenient this time since users can now add to their StreetBy wallet via paying through our partner merchants.
Join us on September 1, 2018 at SM Premier Skypark as StreetBy will be launching the Parcel Delivery along with the Laundry App and Top-Up Wallet features. The StreetBy team, VIPs, media and influencers will be counting down together as Streetby Parcel officially goes live – save the date!