04 Mar

Study In France With The PhilFrance-DOST Scholarship: Apply Now!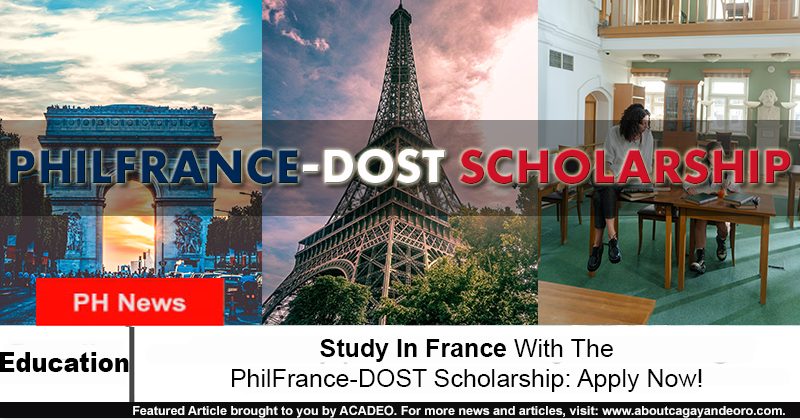 Mga higala! If you wanna have the chance to study at a higher education institution (HEI) in France, you should apply for the PhilFrance-DOST Scholarship now!
This program aims to foster the mobility (to France) of Filipino professionals who are working in academic, research, or government institutions.
Interested? Check out the details below:
ELIGIBILITY
Candidate must be a Filipino citizen
Must not be more than 45 years old at the time of application
Must be in good health condition
Hold a higher education diploma recognized by the Philippine government allowing enrolment in the host course in the
French Republic
Have an excellent academic level
Have the knowledge or expertise required to carry out higher studies within the host establishment in the French Republic
Pass the admission requirements for graduate studies in any of the public universities in France
Pass the interview and other screening procedures
PRIORITY FIELDS
Agriculture
Bioengineering
Bioinformatics (Medical)
Biological Sciences
Climate Change
Forestry
Health and Medical Research
Material Sciences
Medical Chemistry
Natural Resources and Environment
Nuclear Application on Health
Nuclear Medicine
Veterinary Sciences
Virology
BENEFITS
(From DOST-SEI and the French Embassy)
Monthly living allowance (rate will depend on the place of study)
One round-trip economy fare
Relocation allowance
Healthcare package throughout the stay in the French Republic
Priority access to student housing facilities
and more!
(Deadline: April 4, 2022)
Apply na higala! For the full details, visit the link below: