30 Apr

Summer Dishes and Refreshments to Indulge in Cagayan de Oro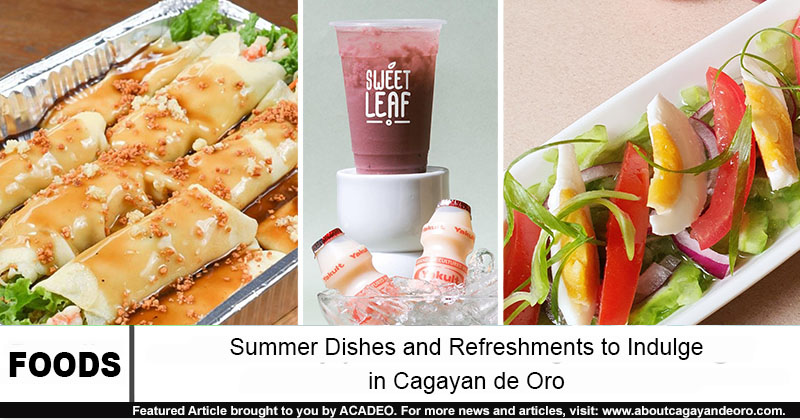 How do you spend the summer season? Are you trying out a new hobby or learning a new recipe? Let me leave a guess. Binge eating!
If you are in to food (well, who doesn't?), then it's the perfect time to try dishes and refreshments that will make you enjoy this year's summer season more. Let us take you to some of the local businesses that offer summer foods in CDO.
Ampalaya Salad
Dine at Fat Chef Restaurant and try their Ampalaya Salad!
It is a locally-inspired Filipino dish which boasts an array of flavors using the freshest of ingredients such as bitter gourd, onions, tomato, and salted egg on top.
You can contact them via Facebook page or call them at 09173282431.
BBQ Ribs
How about some BBQ Ribs from Fuego To Go?
This dish undergoes a number of phases, including grilling and slow cooking. Through such processes, the tenderness of the meat is guaranteed as well as the smoky taste.
To order, call them at 09953840599 or reach out to their Facebook page.
Lumpiang Ubod (Fresh Lumpia)
Finish off your hearty meal with Boy Zugba's Lumpiang Ubod.
Freshly wrapped heart of palm and carrots sliced in strips, this lumpiang ubod is also mixed with minced garlic, onion, and other vegetables. It is then poured with a very tasty sauce and sprinkled with ground peanuts.
Reach out to their Facebook page for orders.
Blueberry/Passionfruit Yakult Drinks
Summer is about sweet and tangy flavors, so might as well try Sweet Leaf Bubble Tea's Yakult Drinks with flavors Blueberry and Passionfruit.
This yakult series is refreshingly sweet, a perfect drink to pair with your favorite solid snack food.
Strawberry Shortcake
Sweets are still in this summer! Have a taste of Yaz Kitchen's Strawberry Shortcake.
It is a cream cheese-based pastry that's so good it just melts in the mouth. Share it with your favorite buddy and together enjoy the taste of summer sweetness.
Rafa's Cassava Cake
Not your ordinary cassava cake. Rafa's Treats offers special Cassava Cake products that undergo a long, meticulous baking process.
Their cassava roots are only sourced from local farms in Bukidnon to ensure premium quality as well as to support local produce.
Let's make the most of this summer season by indulging our food cravings! Let us know your experience in the comments below!
To learn more about these businesses, go to our CDO Listing. Want to be added? Contact us!