02 Jun

3 to 6 Months Suppression of Crime and Drugs is Attainable, Assurance from the Incoming PNP Chief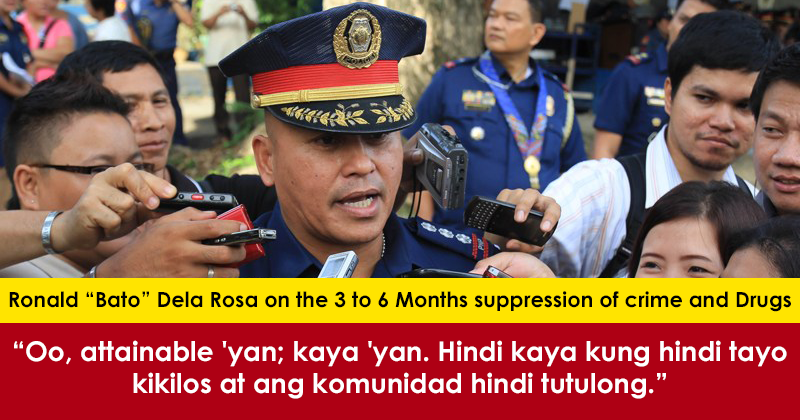 On Tuesday, May 31, incoming PNP chief Ronald "Bato" Dela Rosa said that president-elect Rodrigo Duterte's plan of suppressing crime and drugs within 3 to 6 months is attainable.
Dela Rosa said, "Oo, attainable 'yan; kaya 'yan. Hindi kaya kung hindi tayo kikilos at ang komunidad hindi tutulong."
He also said that he will urge the police to 'apply the full force of the law" against these drug lords and other lawless citizens.
Prior to his appointment as the next PNP chief, Dela Rosa has been impressive in his duty in Davao City with his Oplan TukHang (Tuktok-Hangyo) where police officers go door-to-door, knocking doors of the suspected drug dealers and users asking them to correct their ways, lest something might happen wrong to them if they won't take heed of the warning.
With this successful campaign against crime and drugs in Davao City, he is determined to have this implemented on a national scale. He said, "Magpapatawag kaagad ako ng command conference and then bigay ko ang detalye, 'yung memorandum circular about TukHang ."
Dela Rosa is in doubt of some police officers about their integrity, pointing out that some of them are connected with drug syndicates. With this, he plans to reshuffle the entire police force.
"Tanggalin natin, reshuffle natin. Siguraduhin natin na 'yung ilalagay natin bukod na magaling na opisyal, mga palaban, hindi matatakot lumaban," he said.
With full confidence, he gave that assurance to the people about the integrity of the police force, he said, "I will assure the public that kami ay mga pulis, hindi kami kriminal, susunod kami sa police operational procedure," he also added.
Yet, the police have no immunity to boast. Dela Rosa mentioned that if they are abusive, then they are not an exemption to the law and may face charges filed against them.
On the issue of the Davao Death Squad, Dela Rosa answered, saying, "As far as I know, wala akong death squad. During my time, legitimate operations ang ginagawa ko. Napapatay namin 'yung kalaban through legitimate operations."
He also added, "Hate na hate ko 'yung mga ganyan. Ayaw na ayaw ko yung mga extrajudicial killings."