19 Jul

Supreme Court Sets Arroyo Free! Cleared from Her Plunder Case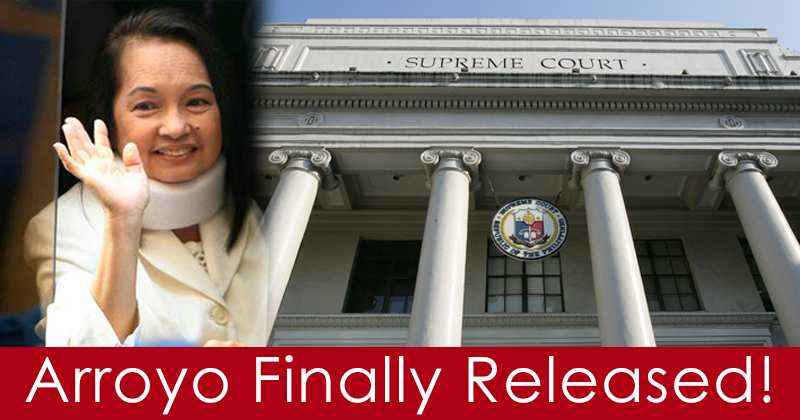 On Tuesday, July 19, the Supreme Court (SC) declared that the former President of the Philippines, Gloria Macapagal-Arroyo is not guilty of the plunder case that has been slammed into her 4 years ago.
Since October 2012, Arroyo has been detained in the Veterans Memorial Medical Center. This hospital arrest will end sooner than later after the SC's decision.
The annulment of the case has been delivered because of the "insufficiency of evidence" and ordered Arroyo's "immediate release." The Philippine National Police will prepare Arroyo's release once the SC delivers its judgment.
The official count of the votes by the justices to accept Arroyo's plea of junking the Sandiganbayan ruling is 11-4.
A quote from the official decision of Arroyo's appeal read, "Wherefore, the Court grants the petitions for certiorari; annuls and sets aside the resolutions issued in Criminal Case No. SB-12-CRM-0174 by the Sandiganbayan on April 6, 2015, and September 10, 2015; grants the petitioners' respective demurrers to evidence; dismisses Criminal Case No. SB-12-CRM-0174 as to the petitioners Gloria Macapagal-Arroyo and Benigno Aguas for insufficiency of evidence; ORDERS the immediate release from detention of said petitioners; and makes no pronouncements on costs of suit."
Here are the 11 justices that approved Arroyo's appeal:
Justice Presbitero Velasco Jr
Justice Teresita de Castro
Justice Arturo Brion
Justice Diosdado Peralta
Justice Lucas Bersamin
Justice Mariano del Castillo
Justice Jose Perez
Justice Jose Mendoza
Justice Bienvenido Reyes
Justice Estela Perlas-Bernabe
Justice Francis Jardeleza
While here are the other 4 who opposed it:
Chief Justice Maria Lourdes Sereno
Senior Associate Justice Antonio Carpio
Associate Justices Marvic Leonen
Benjamin Caguioa
Arroyo cried after knowing about the decision. One of her lawyers, Raul Lambino, was with her Tuesday at the Veterans hospital. After knowing the verdict of the case, he said, "Kasama ko nga po si Pangulong Arroyo rito at lubos po yung ating kagalakan ngayon dito sa naging botohan o info na dumating sa amin. Naiyak po siya siyempre lahat ng mga kasama namin rito sa magandang balitang dumating sa atin."
He also added, saying, "Para sa akin, malaya na ang dating Pangulo."
Lawyer Ferdinand Topacio also added, pointing to the unsuccessful and less competent Aquino government, he said, "The Supreme Court has once again proven itself to be the final bastion of justice and the rule of law. Its ruling today has validated what we have been saying for six years now: that the charges against former President Gloria Macapagal-Arroyo are nothing more than disingenuous attempts at political persecution by a corrupt and inept Aquino administration intent on covering up its gross lack of accomplishments by harassing its political opponents."
In retrospect, it was Aquino who jailed Arroyo and paved the way to impeach the late chief justice Renato Corona.