07 Jan

Supreme Court Officially Junks Same-Sex Marriage Petition "With Finality"

Mga higala! Yesterday, January 6, 2020, the Supreme Court has "denied with finality" the same-sex marriage petition filed by Atty. Jesus Nicardo Falcis III and other LGBT advocates.

According to the high court's notice, it resolved to deny the same-sex marriage plea because no "no substantial arguments were presented to warrant the reversal of the questioned decision."

The court also added that Falcis violated the principle of hierarchy of courts and failed to raise an actual justiciable controversy.  Thus, he has no legal standing.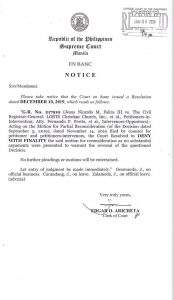 For more details: