15 Jan

Suspects Spotted Robbing Money & More From Students Near City Central School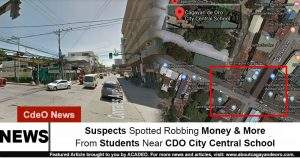 Mga higala! A concerned netizen has recently spotted a group of suspects who are victimizing students at night, near the Cagayan de Oro City Central School and Trinidad Bldg., along Yacapin Street and Corrales Avenue!
According to the netizen's post, the suspects (1 adult & 3 teenagers) wait for vulnerable students along the sidewalk. They then surround their victims and threaten them until they give up their money and other valuables.
Those who resist are forcefully held against their will while the suspects check their bags and wallets.
Moreover, the concerned netizen has added that several students have already been robbed before, of their money, smartphones, and other belongings.
Hopefully, the police will assign officers in the area and prevent these incidents from happening again.
Please share and inform others higala!
ICYMI, a hold-upping incident also happened in the area last December 2019:
(For security reasons, the concerned netizen's name is not mentioned.)